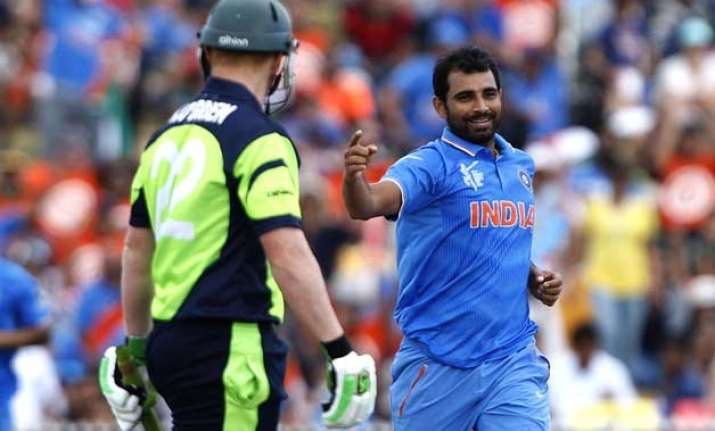 Hamilton: Skipper Mahendra Singh Dhoni today heaped praise on his bowlers for bundling out every team that India have played so far in the ongoing cricket World Cup, saying they have stepped up to the challenge nicely and are doing a "really good job".
India beat Ireland by eight wickets to record their ninth successive win in the World Cup and with it a unique feat of dismissing the entire opposition out for a fifth consecutive game.
ALSO READ: India records 5th straight win, beats Ireland by 8 wickets
"One of the coaches was telling me (about India taking 50 wickets in five matches). It's a good stat to have. It means the bowlers are really doing the job for us," said Dhoni at the post match presentation.
"It's a remarkable difference (since the last ODI tri-series), they've really stepped up. Not just the three fast bowlers, the spinners as well, and whenever we've had to use part-timers they've done a good job. Looks like a happy unit," he added.
Dhoni said he wanted his fast bowlers to get a good workout and that was the reason why he persisted with them for their full quota of 10 overs.
"I knew, even after 4-5 overs, I could bring the spinners on right away if I wanted, but I still went ahead with the fast bowlers in the first 10 overs, then I felt let's get the most out of this game, (part-timer) Suresh (Raina) also did really well and he got through his 10 overs," he explained.
Asked what instructions does he yell out to his bowlers from behind the stumps, Dhoni said: "At times I just try to tell them what my gut feeling is. Whatever I can read from behind with the initial movements of the batsman. Hindi is the ideal language, because everyone understands but the batsman doesn't."
On what turned around for the team after a dismal Test and ODI tri-series performance that preceded the World Cup, Dhoni said being acclimatised to the conditions helped the side.
"We have been here for over four months, we had to sacrifice somewhere, and that was the intensity in the ODI series, especially after the effort we had put in during the Test series. I knew it would be back when the World Cup started.
"Even this game was a challenge, a lot of them are jet-lagged and sleep-deprived after coming here from Perth. I'm glad all of us have stepped up. It feels good. Everyone is happy we have been able to win nine consecutive games, we just have to take the momentum forward," said Dhoni.