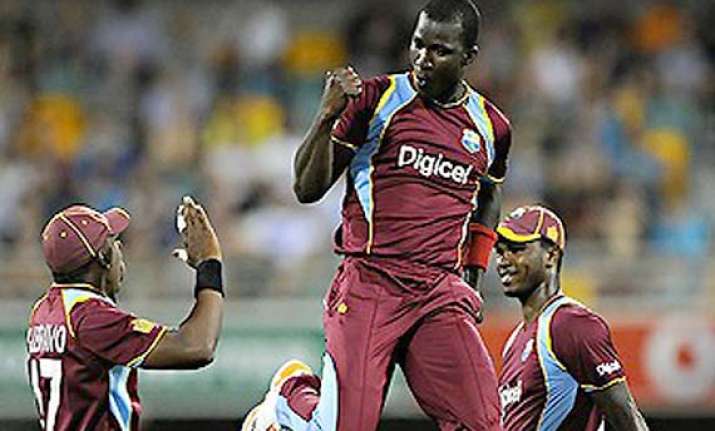 Brisbane, Feb 14: Twenty20 World Cup champions  West Indies defeated Australia by 27 runs in their one-off international at the Gabba on Wednesday night.
Australia stumbled to  164 for 8 in the face of West Indies bowlers in response a a fast-finishing score of 191 for 6 by West Indies in front of a crowd of 19,562.
Kieron Pollard  who took three wickets for 30 runs was declared Man of the Match.  
The Australian had mostly rookies, as their star batsmen have already left for the India tour. Only  half of the Gabba was full for what was supposed to be this summer's international cricket climax. 
Punters were struggling to recognise all the Australian T20 players at the Gabba.
Chasing 192 for victory, Australia looked comfortable at 1-79 in the 10th over, with Shaun Marsh and Adam Voges at the crease, before two run-outs in three balls turned the match on its head.
First Marsh (21 off 19 balls) was caught short by Tino Best at cover after being called through for a quick single, ending a 74-run second-wicket stand.
Next over it was Voges (51 off 32 balls) taking the long walk back to the pavilion after Australia lost 2-3.
A cheeky single was attempted after wicketkeeper Devon Thomas fumbled, but he redeemed himself by throwing down the stumps to catch out Voges at the striker's end.
Just like Voges, captain Bailey (15) overcame a hamstring complaint to earn a last-minute selection, but he was snared by spinner
Sunil Narine
.
Brad Haddin (22 off 11 balls) tried to give Australia a sniff, at one stage bludgeoning Narine for two sixes and a four in three balls, before hitting out once too often against Kieron Pollard.  
Pollard then cleaned up, at one stage eyeing a hat-trick as the mini-collapse became a full-blown crisis for Australia.
The hosts initially punched above their weight to restrict the Windies after the early loss of matchwinning opener
Chris Gayle
(eight) in the second over.  
Left-arm quick James Faulkner (3-28 off four overs) was a thorn in the Windies' side, at one stage taking two wickets in three balls.
Opener Johnson Charles shared an 88-run second-wicket stand with Darren Bravo (32) to steady the innings. But it was the late hitting of Pollard (26), Andre Russell and captain Darren Sammy that helped lift the Windies to a win.  
West Indies
C GAYLE c Coulter-Nile b Hazlewood 8
J CHARLES b Coulter-Nile 57
DM BRAVO run out (McKay) 32
K POLLARD c Marsh b Faulkner 26
D BRAVO b Faulkner 13
A RUSSELL not out 23
D SAMMY c Marsh b Faulkner 20
N DEONARINE not out 6
Sundries (4lb, 2w) 6
Total (6 wkts - 20 overs) 191
Fall of wickets: 11 (Gayle), 99 (Charles), 106 (DM Bravo), 139 (Pollard), 141 (D Bravo), 172 (Sammy)
Bowling: C McKay 4-0-44-0, J Hazlewood 4-0-36-1, J Faulkner 4-0-28-3 (1w), N Coulter-Nile 4-0-36-1 (1w), B Cutting 4-0-43-0
Australia
A FINCH b Sammy 4
S MARSH run out (Best) 21
A VOGES run out (Thomas) 51
G BAILEY c Deonarine b Narine 15
B ROHRER c Deonarine b Pollard 16
B HADDIN c Russell b Pollard 22
J FAULKNER c Sammy b Pollard 7
B CUTTING st Thomas b Narine 0
N COULTER-NILE not out 16
C McKAY not out 6
Sundries (1b, 2lb, 3w) 6
Total (8 wkts - 20 overs) 164
Fall of wickets: 5 (Finch), 79 (Marsh), 82 (Voges), 96 (Bailey), 121 (Haddin), 139 (Faulkner), 139 (Rohrer), 141 (Cutting)
Bowling: T Best 3-0-19-0 (2w), D Sammy 3-0-30-1 (1w), S Narine 4-0-19-2, A Russell 1-0-9-0, N Deonarine 3-0-37-0, D Bravo 2-0-17-0, K Pollard 4-0-30-3
Result: West Indies won by 27 runs
Man of the Match: Kieron Pollard
Series: West Indies won the one-off match