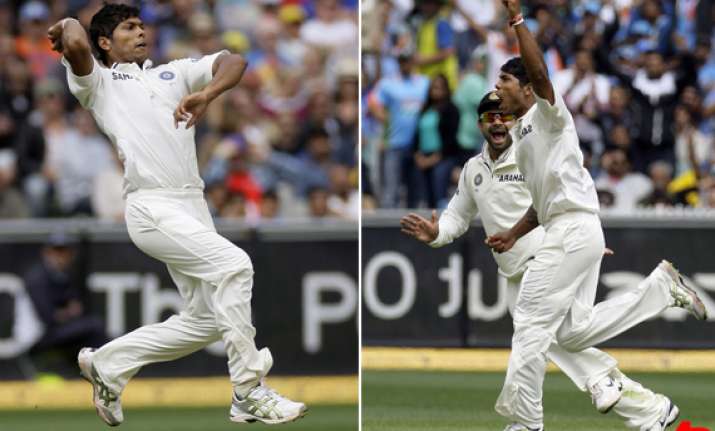 Melbourne, Dec 26: India's young bowling sensation Umesh Yadav felt nervous bowling at the likes of Ricky Ponting in his first Test against Australia but said Sachin Tendulkar's advice hugely boosted his confidence as he scalped three crucial wickets on the opening day today.

Yadav was seen to get a lot of encouragement from Tendulkar at mid-off or mid-on and the young fast bowler said the Indian legend told him to bowl fuller length deliveries to get wickets.

"Even against West Indies, at mid off or mid-on, he just boosts my confidence. He does not tell me anything particular, just asks me to bowl in my areas. He told me that in India you could get away by bowling back of length stuff. Here in Australia, it's important to bowl a fuller length," Yadav told reporters at the press conference after first day's play.

Yadav said he was happy to have taken the most wickets for the visitors but was disappointed that he gave away far too many runs.

"I took wickets but also gave away far too  many runs. So I'm happy and I'm not happy as well," said Yadav who took three wickets for 96 runs for his day's effort.

Yadav was pulled often by Australian batsmen, especially in the post lunch session when both Ponting and opener Ed Cowan had a go at him, and he said he bowled short balls to contain the batsmen.

"It's not that I wanted to bowl short or the team has planned so. The two fielders in the deep, at fine leg and square leg, were intended to keep the scoring down more than to catch the batsmen off a pull shot," he said.

One of Yadav's victims was Ponting whom he claimed caught in the slips off an outswinger and he admitted he was a bit nervous initially bowling at the Australian legend.