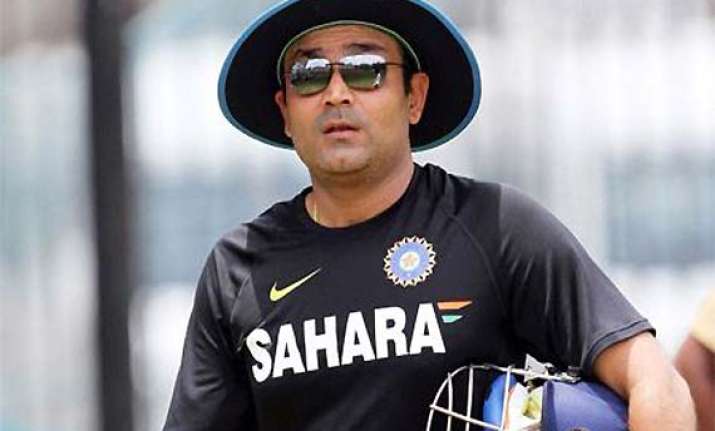 Kolkata, Dec 8: India opener Virender Sehwag today lashed out at the batsmen for showing lack of patience and held them responsible for putting the hosts on the verge of a heavy defeat in the third Test against England here.
"If you apply yourself on this wicket, it's not that difficult to score runs. It's Test cricket and you have to show some patience. Yes you can say that (we did not show enough patience). The key was the patience," Sehwag told reporters after the fourth day's play.
The Delhi player believed that things could have been different had India posted a big first-innings total.
"In this series, we have not put runs on the board, especially in the last two Tests. The moment we put 500-plus, it's going to be a different ballgame.
"Their batsmen showed patience more than ours. They batted really well. Full credit to the way (Alastair) Cook and the others batted," Sehwag said.
Asked whether the Indians were taken aback by the quality of English attack, Sehwag said, "I don't think so. Our batsmen not scoring runs that's the important concern for me. In Ahmedabad we put 500-plus runs on the board and it was a different ballgame."
On a day the star-studded Indian batting flopped losing six wickets for 36 runs, Ravichandran Ashwin shone with an unbeaten 83, which helped the team avoid an innings defeat.
At stumps in their second innings, India were 239 for nine, giving them a small lead of 32.
"Yes we are very much disappointed. Wicket was not that bad to lose six wickets in a session. But we have to work hard to bounce back in the next game."
Sehwag was optimistic enough to say that only a miracle can save India now.
"We can just hope that something happens tomorrow and we're able to draw the Test. Only God can help us."