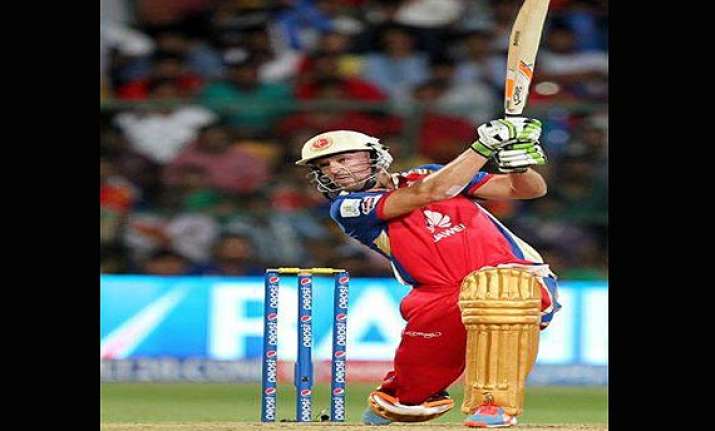 Royal Challengers Bangalore captain
Virat Kohli
Sunday described his team-mate A B de Villiers' stunning match-winning knock of 89 not out from just 41 balls against Sunrisers Hyderabad in an
IPL
match as one of the best Twenty20 innings he has seen.    
Kohli also rated de Villiers, who hit six fours and eight sixes in his incredible innings, as the best current player in the world in the shorter format.    
"He (AB) is the best player in the world by far. He has shown it every now and then, and he has shown it again today why he is rated the number one in the world in any format. It was one of the best innings in T20 I have seen," Kohli said in awe of his team-mate after Bangalore beat Hyderabad by four wickets in a dramatic match.    
"Today was one of the days we needed someone to win the game from that tough situation. The way de Villiers was striking the ball under pressure, it was just amazing. We thought it was a below-par score in Bangalore. Generally you get 170.
Chris Gayle
got us to a decent start, but the way AB played, it was incredible. He took the game away from the opposition," Kohli said.    
Man of the Match, de Villiers, on his part said it was one of those nights when things went his way.    
When told that his South African compatriot
Dale Steyn
(0/39) whom he destroyed today described his innings as a "different class", de Villiers said, "He (Steyn) won the first set and I won the second. I would have loved to have a third set against him.    
"In those kinds of situations it is the small things that matter the most. It is team spirit, such things that matter in the end. Yuvraj kept boosting me up tonight, got to give credit to him."