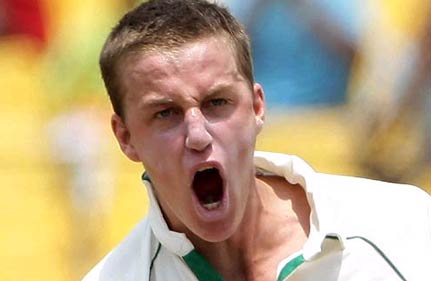 South Africa is set to unleash a barrage of short-pitched deliveries to unnerve the Indian batsmen in the two-Test series beginning here on Saturday, visiting speedster Morne Morkel said in Nagpur on Thursday . 
"We have got bowlers who can bowl 145 kms plus an hour. One of the strengths of our fast bowlers is to run up and bowl short. Why not use it?" Morkel said when asked if they would continue dealing in short-pitch deliveries like they did in the practice match against the Board President XI. 
The gangling Morkel will share the new ball with Dale Steyn with rookie left-arm bowler Wayne Parnell completing the pace attack and Jacques Kallis providing the back-up support. 
Morkel said the job would not be easy against the Indians on spin-friendly pitches but the pacers can still do well because of the ball reversing and the up and down nature of the wickets. 
"Luckily it's not my first time in India. I know what I can expect. Conditions are not easy for a fast bowler but as long as you prepare yourself mentally, I think you will be fine. 
"The ball does reverse swing and sometimes the wickets go up and down. You just need to keep running and bowling fast and rewards will come," he said at a media interaction at the team hotel. Morkel said he enjoyed his bowling partnership with Dale Steyn and was looking forward to the battle against Indian openers Virender Sehwag and Gautam Gambhir. 
"I have enjoyed it (partnership with Steyn). We have been playing back home for the last five years for the same franchise team. We support each other quite well. He swings the ball and I try to bowl fast. We are two different bowlers. We complement each other. "Gambhir and Sehwag played very well for India opening the batting. I think it's going to be a very good challenge. We are looking forward to the challenge," said Morkel. 
The bowler remembers the shellacking South Africa received from Virender Sehwag, who hit a blistering 304-ball 319 in the Chennai Test in 2008 but seemed optimistic of taming the Indian swashbuckler this time around. 
"Funny game, this cricket. He played out of his boots in Chennai. After that we also bowled well. We know how dangerous he's and how well he can dominate the attack. This time we need to get him out early.
"I cannot answer how we are going to stop him. But when Sehwag gets going you cannot contain him. Main thing to Sehwag is to keep your patience and keep doing what you believe is right," Morkel said. Looking ahead, the Protea felt reverse swing would be one of the keys to breach a batsman's defence. 
"Main thing for both teams is to get reverse swing going as soon as possible. That's one of the main things we need to focus on. In India you don't get too much seam movement, cannot bowl late cutters. We cannot use SG balls as an excuse as we have played with it in the practice game," he said. PTI