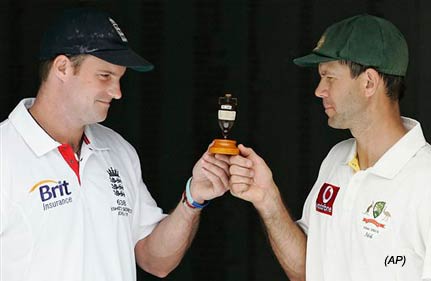 Brisbane: The bitter taste of Ashes defeat still lingers with Australia captain Ricky Ponting and he expects it to inspire his team's effort when the first Test of the 2010-11 series begins Thursday.  
Just as the 2005 Ashes loss spurred Australia to a 5-0 whitewash victory in 2006-07 series, Ponting believes the quest for vengeance will again be a powerful motivation for a team that is expected to start with 10 of the 11 players who lost at the Oval in 2009.  
"That's a really big part of how we're playing this series," Ponting said on Wednesday.  
"We took in our own disappointment and made sure it hurt them as much as possible. That's what has been driving me. It's about that empty feeling that we've had at the Oval in two successive Ashes tours."  
Vice-captain Michael Clarke, who had been suffering from the recurrence of a chronic back problem, took part in a net session Wednesday, and was declared fit by Ponting.  
"Michael Clarke has got through his work very well in the last couple of days," Ponting said.  
"I'm not sure what the long term diagnosis is but I'm sure he'll get through this game."  
Usman Khawaja
, who was on standby for Clarke, was released from Australia's squad to play in the domestic Sheffield Shield competition, as was left-arm paceman Doug Bollinger.  
Peter Siddle was preferred to Bollinger despite not having played a Test since January due to his own back problem.  
The sole member of the expected team that didn't play in the 2009 Ashes is debutant spinner Xavier Doherty, who was selected ahead of incumbent spinner Nathan Hauritz.  
Doherty's inclusion is perhaps Australia's most contentious bowling selection since Stuart MacGill was preferred to Shane Warne in the West Indies in 1999, but Ponting had faith in his fellow Tasmanian.  
"He's been particularly good," Ponting said. "He's bowled a lot and is very excited. He knows his strengths and weaknesses and he'll stick to that."  
Although Doherty has made a good start to his domestic campaign this season, taking 11 wickets from three games compared to Hauritz's four, his inclusion in the side appears to be at least partly due to perceptions that Kevin Pietersen is suspect against slow left-arm bowlers.  
Pietersen is still regarded by Australia as England's danger man despite averaging under 34 in 2010, and the hosts hope Doherty will add to the South African-born batsman's 17 dismissals against left-arm spinners in 66 Tests.  
The selection has been blasted by many pundits, including Warne, who also criticized Ponting's field-setting for Hauritz in the two recent Tests in India which Australia lost.  
Australia's spin worries contrast with that of England, who in Graeme Swann possess the leading wicket-taker in world cricket with 51 dismissals already this year.  
Four years ago, England's preparation was derided as Australia's settled side went on to achieve a clean sweep to put themselves down as one of the best in Ashes history.  
This time captain Andrew Strauss is delighted with England's pre-Test warm-ups as they have recorded convincing victories over Western Australia and Australia A.  
"We recognize that it's a tough assignment," Strauss said. "Not many sides come out here and win. We understand the size of the challenge but we couldn't be in a better place mentally to take on that challenge."  
Strauss shrugged off Australia strike bowler Mitchell Johnson's contention that the England captain struggles against well-delivered short balls.  
"I've had to deal with a lot of short pitched balls in the past and I'm quite happy with my technique against it," Strauss said.  
"If Mitchell wants to let us know his bowling plans a day early, that's very kind of him."  
Ponting too is likely to be subjected to plenty of bouncers, as he has suffered a spate of dismissals when hooking the ball.  
"I have to choose the right balls to play," Ponting added. "If anything in the last 12 months I have been a bit the other way and a bit too keen to get on top of bowling.  
"A lot of my work has been based around playing the right shot to the right ball."
Australia have not lost in Brisbane since 1988 and the Australia captain is confident he and the team will come out firing on a ground where he averages over 100 in three Ashes Tests.  
"I'm always focused on being right for the first innings," Ponting said. "It's to do with the challenge you're confronted with as leader of the team.  
"Generally it's here and Perth tourists find it hardest to adjust to. History suggests we handle it well."  
England have won just four times at the Gabba in 18 matches, with the 1986/87 triumph and one against effectively a second string Australia side in 1978 being their only victories in Brisbane since the Second World War.  
Strauss feels his side has no mental barrier though, having ended a 75-year hoodoo against Australia at Lord's during the 2009 series.  
"It's a very strong ground for Australia, but the prospect of turning it around excites us," Strauss said. "We had a similar record to contend with at Lord's last time and we were able to overcome that.  
"If the guys put their minds to it, it could be a good start to the series to overcome that record."  
Likely teams for the first Ashes Test:  
Australia:
Simon Katich, Shane Watson, Ricky Ponting (Capt.), Michael Clarke, Mike Hussey, Marcus North, Brad Haddin, Mitchell Johnson, Xavier Doherty, Ben Hilfenhaus, Peter Siddle.  
England:
Andrew Strauss (Capt.), Alistair Cook, Jonathan Trott, Kevin Pietersen, Paul Collingwood, Ian Bell, Matt Prior, Stuart Broad, Graeme Swann, Steven Finn, James Anderson. AP