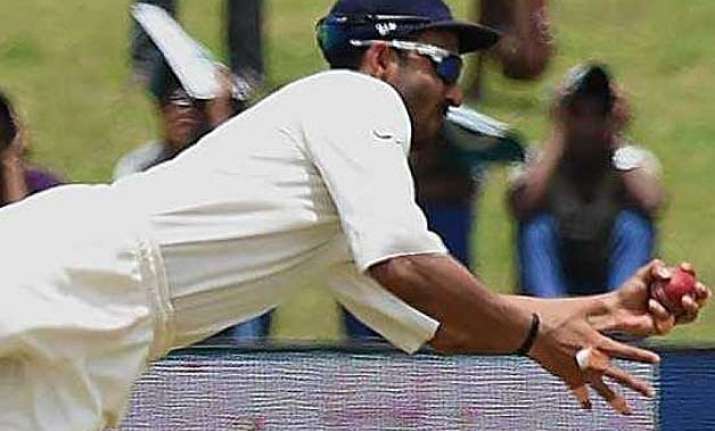 Galle (Sri Lanka): Team India's right-handed batsman Ajinkya Rahane today created a new World record as he becomes the first non-keeper cricketer to take eight catches in a single test match.
 
During Sri Lanka's second innings on the third day of the Galle test, he caught five Sri Lankan batsmen. He had taken three catches in the first innings. A total number of 8 catches in the test match.
"We had a very good talk during IPL about what he used to do when he used to stand in the slips," revealed Rahane on working closely with Dravid, who used to man the slip cordon for India during his playing days.
"He (Dravid) told me that focus and concentration were really important things. In Tests sometimes the ball will not come for a long time and suddenly you have to grab that one chance that comes. That temperament has to be there and I have been working on my slip catching and my overall fielding," he said at the post match press conference here.
Rahane said he wasn't aware of his world record feat until his teammates told him about it."I didn't know until Murali Vijay and Umesh Yadav came on during a break, and told me that this is a world record for you," said a happy Rahane.
"I was quite surprised, I didn't know about it. I feel in this team, any player can stand anywhere.
Every individual has the ability to stand anywhere and all are brilliant fielders.  So I normally stand at gully for fast bowlers and this time Virat Kohli told me that I will stand at slip for spinners. So I have been practicing that before the Test series. Even during the series we have been taking 50 to 100 catches everyday. So that's working for us," he added.
Rahane said his sole intention was to stay completely focussed while fielding in the slips."I was completely focusing at the present moment because we all knew that one wicket at that point would give us that momentum. (Kumar) Sangakkara's wicket gave us the momentum and immediately (Angelo) Mathews got out, so my motto was to stay focussed all the time in the slips because the ball was turning that time.
"Ashwin and Bhajji pa (Harbhajan Singh) were bowling really well. I just wanted to focus and keep concentrating and each and every ball."
Earlier, Yajurvindra Singh (India), Greg Chappell (Australia), Hashan Tilakaratne (Sri Lanka), Stephen Flemimg (New Zealand) and Mathew Hayden (Australia) had jointly held the record by taking 7 catches in a test match.
Before this match, Rahane had taken 7 catches in 15 Tests but in one match alone he has overtaken his previous tally.
 
Well known cricket statistician Mohandas Menon confirmed the record. He wrote on his Twitter page, "Ajinkya Rahane now 8 catches - the most ever by a fielder in a Test match #IndvSL."
 
The world record came when Rahane caught left-hander Rangana Herath at slip off Amit Mishra. At the time, Sri Lanka was 319/8 in 72.5 overs. The hosts were later bowled out for 367.
 Here is the list of Sri Lankan batsmen who were caught by athletic Ajiinkya Rahane during the ongoing first test:
 
 Sri Lanka's 1st innings
 
1. Dimuth Karunaratne c Rahane b Ishat Sharma 9
 
2. Lahiru Thirimanne c Rahane b R Ashwin 13
 
3. Dinesh Chandimal c Rahane b Amit Mishra 59 2nd innings
 
Sri Lanka's 2nd innings
 
4. Dhammika Prasad c Rahane b Varun Aaron 3
 
5. Kumar Sangakkara c Rahane b Ashwin 40
 
6. Thirimanne c Rahane b Ashwin 44
 
7. Jehan Mubarak c Rahane b Harbhajan Singh 49
 
8. Rangana Herath c Rahane b Mishra 1