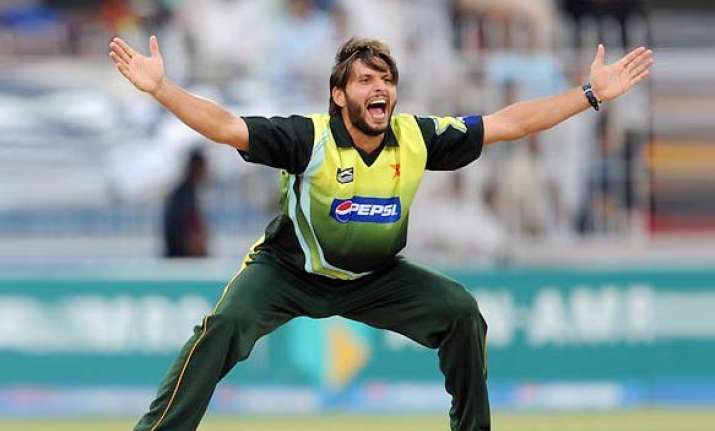 Karachi: Pakistan captain Shahid Afridi on Thursday said a possible duel with India in the World Cup final would be ideal for the tournament and a boost to international cricket, drawing billions of viewers.  
"There is a possibility that Pakistan and India play the final of the World Cup and if that happens it would be ideal for the World Cup, one-day format and for the game of cricket," Afridi said.  
Arch-rivals Pakistan and India are in separate groups of the 14-team World Cup, jointly hosted by India, Sri Lanka and Bangladesh and starts on February 19.  
The top four teams from each of the two groups meet in the quarterfinal and Afridi hopes both India and Pakistan avoid each other until the April 2 final.  
"Both India and Pakistan have to play above their potential to reach the final but it would be ideal for the billions of people around the world," said Afridi, who will be playing his fourth World Cup.  
Pakistan have not beaten India in the four matches they have played at World Cups.  
India beat Pakistan by 39 runs in a highly charged quarterfinal at Bangalore in the 1996 World Cup.  
The two have not played each other outside tournaments since the 2008 terror attacks on Mumbai, which claimed 166 lives and caused a diplomatic rift between New Delhi and Islamabad.  
However the pair met in the Champions Trophy held in South Africa in 2009, where Pakistan beat India - the last international match between them.  
Afridi said beating their arch-rivals in the Mumbai final would be the "icing on the cake."  
"We would love to beat India in India and in a World Cup match because we have never done this before and this could be a great motivation," said Afridi.  
Playing down any possible threat from Hindu fundamentalists during the World Cup, Afridi said: "People of both the nations love cricket and I don't see any threat.  
"But yes, if the atmosphere is highly charged it would definitely spur both the teams on and bring out the best in the players from both the sides."  
Cricket had united both the nations and has the power to do that again, he said.  
"I know that this beautiful game has the charm and the power to bring the nations closer," he said.  
"What we have seen in the past is an ample proof of that. When India came here in 2004 people from both sides came closer and when we toured India we were welcomed by their people, so it's a mutual love for the game."  
Expressing hopes the two nations resume cricketing ties, Afridi said billions of cricket fans are missing a "big thing".  
Pakistan fly out to Dhaka early Friday morning where they are due to play warm-up matches against Bangladesh and England.  
Pakistan open their World Cup campaign with a match against Kenya at Sri Lankan town of Hambantota on February 23. AFP