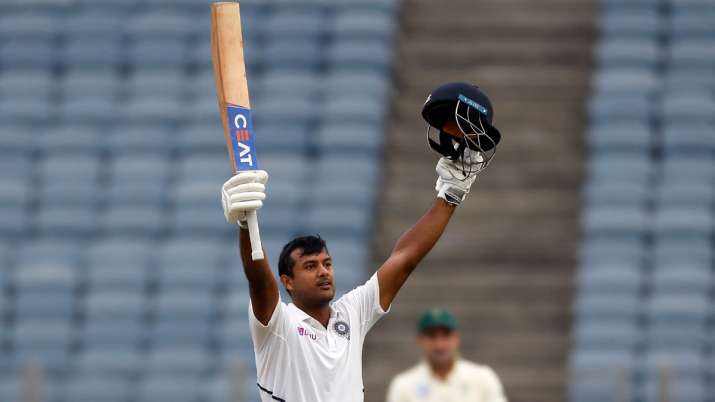 India vs South Africa, 2nd Test, Day 1 Live:
It has been a mixed session... slightly inclined towards the host perhaps. South Africa have got the crucial wicket of
Rohit Sharma
but India have managed to score 77 runs with
Mayank Agarwal
and
Cheteshwar Pujara
looking solid in the middle after
Virat Kohli
opted to bat. Anrich Nortje has been expensive but has bowled quick and troubled the batsmen at times while
Kagiso Rabada
has shown glimpses of his ability on Thursday with pace, bounce and accuracy. India 77/1 after 25 overs.  Follow live updates of the first IND vs SA Test from Pune here at
indiatvnews.com
. (
Scorecard
|
When and Where to Watch
)
IND vs SA, 2nd Test, Day 1, HIGHLIGHTS from Pune: INDIA 273/3 (Rahane 18*, Kohli 63*)
16:38 IST: Bad light urges umpires to call for stumps
16:33 IST: Philander to Kohli. Four! What a timing! Outside off and he elegantly punched it down covers for a four.
16:20 IST: With a four down cover, Kohli scores his 23rd Test fifty in his 50th Test match as skipper of India. 
16:15 IST: Philander to Kohli. It's the new ball. HUGE APPEAL. But umpire reckons it took a deflection off the inside edge. 
16:10 IST: Meanwhile, during his present innings, Kohli went past Ross Taylor (6839), KF Barrington (6806). He now stands just few runs behind India's Dilip Vengsarkar (6868).
16:01 IST: Maharaj to Kohli. Four! Steps out and drives the ball down midwicket region for a four again.
16:00 IST: Maharaj to Kohli. Four! Goes on his back foot to cut the ball elegantly down point for a boundary
15:33 IST: Nortje to Rahane. Four! Flick of the wrist and Rahane opens his account with a four down square leg
15:31 IST: Nortje to Kohli. Four! Bouncer outside off and Kohli plays an uncharacteristic pull shot to send the ball down to the deep midwicket boundary.
15:25 IST: Nortje to Kohli. Four! Shortish ball, Kohli attempts to pull. The ball took the top edge to carry behind to the boundaries. 
15:20 IST: South Africa need the bowler from the other end to make an impact. Maharaj has played the holding role with an economy rate below two. 
15:03 IST: Rabada to Mayank. OUT! Outside off, uppish in length, thick outside edge and the ball flies quickly to Du Plessis. Three wickets for Rabada today. 
14:56 IST: This is the fourth time that Indian openers have scored four (most) centuries in a series. Three came at home and one away from home. 
14:48 IST: Remember, Pune was the pitch that had witnessed the revival of Mayank in his domestic career in 2017. He had scored 304* back then against Maharashtra. Today it is a century, in international cricket - his second in the format, both scored against the same team.
14:43 IST: Philander to Mayank. CENTURY NO.2 for the opener. What an innings! Absolutely sensational! Cuts the outside off delivery past the second slip for a four to get to the mark. 
14:41 IST: Maharaj to Mayank. SIX! Uses his feet to get close to the pitch of the delivery to dispatch the ball straight over long-off. And then again! 
14:32 IST: Play resumes after tea. Can South Africa pick a few more wickets or will India dominate yet another session?
14:12 IST: India score 168/2 against South Africa at tea in Pune. India have lost only one wicket in this session - Pujara for 58
14:01 IST: Rabada to Pujara. OUT!  Outside edge and it has carried comfortably to Faf du Plessis at slip. Skipper Virat Kohli is the new man in. 
13:55 IST: Maharaj to Pujara. Four! Reads the ball well, steps out of the crease and drives the ball against the off-spin for a four down midwicket. And four again! This time down cover. Back-to-back fifties for Pujara. 
13:45 IST: The second-wicket partnership between Pujara and Mayank is presently of 120. India's second-wicket partnerships have been the most effective at home, averaging 81 since 2015 (most). Nine of their 12 fifty-plus stands have been converted to a century. 
13:37 IST: Muthusamy to Pujara. SIX! Against the length ball, Pujara rocks back to dispatch the ball high and over deep square leg. 
13.26 IST: Nortje to Mayank, FOUR! Same delivery, same result. The only difference is, this time it went through mid-wicket.

13.25 IST: Nortje to Mayank, FOUR! Comes round the wicket to get him caught at short leg but Mayank has once again pulled it well for a boundary. Not working so far.

13.23 IST: Maharaj to Pujara, FOUR! Sliding down the leg, Pujara steps ahead and glances down through square leg for a boundary. A welcome one after a few quiet overs.

13.06 IST: Nortje to Mayank, FOUR! Comes round the wicket and looks to bounce him but Mayank in full control, got on top of the bounce and guides it fine for a boundary.

13.04 IST: Faf du Plessis's captaincy and the strategy of the bowlers has to be questioned here. There isn't any help from the wicket but Maharaj continues to bowl it flat into the wicket. Mayank and Pujara without any problem are milking it around and defending the balls.

12.47 IST: BOWLING CHANGE! Anrich Nortje brought back into the attack.

12.45 IST: Maharaj to Mayank, FOUR! FIFTY! That's his fourth Test fifty. Mayank continues to impress home and away. That was short and wide, the right-hander cut away through point and cover for a boundary. Also, brings up India's 100.

12.37 IST: Maharaj to Pujara, FOUR! Finally, a loose ball and Pujara jumps on to it. Short ball and it was cut with ease for a boundary.

12.36 IST: South Africa have managed to build up pressure with some tight bowling. A run after 17 balls.

12.25 IST: Philander to Pujara, FOUR! Little room, allowing Pujara to free his arms and he obliges with a boundary through point for a square cut.

12.22 IST: Maharaj to Mayank, FOUR! Once again! Another lovely shot. Gives the slight charge and flicks it wide of mid on for a boundary.

12.22 IST: Maharaj to Mayank, FOUR! Down the ground and four a boundary. First of the session.

12.17 IST: Vernon Philander from the other end. Two slips and a gully.

12.16 IST: Just two runs from the first over of the session.
12.11 IST: Welcome back! The players are coming back on to the field for the second session. India had a good outing in the first and would hope to carry the good work forward. Mayank to take strike after lunch, Maharaj to bowl for South Africa.

11.32 IST: LUNCH! That's it then. 25 overs bowled and 77 runs scored with the fall of one wicket. India started cautiously and lost Rohit relatively early. Since then, Mayank and Pujara have grinded it out and taken India to a decent score in the first session. Join us in a while for the second session of the day!

11.30 IST: Rabada to Pujara, FOUR! Strays down the leg and Pujara gracefully puts it away for a boundary through the leg side. With that, the 50-run stand also comes up for the second wicket.

11.12 IST: Maharaj to Puajra, FOUR! Gives the charge again and this time through mid-on for another boundary.

11.11 IST: Maharaj to Puajra, FOUR! Dances down the pitch and flicks it through midwicket for a boundary.

11.09 IST: Keshav Maharaj into the attack, spin introduced for the first time.

10.58 IST: Nortje to Mayank, FOUR! Once again Nortje pitches it up and Mayank drives it through covers for a boundary. Copybook from last over.

10.45 IST: Nortje to Mayank, FOUR! Once again. Another fantastic shot. Pitched up and driven through extra cover for the third boundary of the over.

10.44 IST: Nortje to Mayank, FOUR! Overpitched and wide and Mayank slams it through the offside for the back to back boundaries.

10.43 IST: Nortje to Mayank, FOUR! Shot of the day! Full, Mayank leans forward and drives it past the bowler for a lovely boundary.

10.38 IST: We are back after the break and Vernon Philander will begin proceedings.

10.34 IST: DRINKS! A good session so far. India started off watchfully but Kagiso Rabada hung in there and in the end, got the wicket of Rohit Sharma. Mayank Agarwal and Cheteshwar Pujara also granted chances but they were not taken. Overall, even stevens so far.

10.27 IST: Rabada to Pujara, DROPPED! Pujara clips one off his hips but striaght to Temba Bavuma at short leg, who fails to grab at it as it rushes to him at short leg.

10.22 IST: Nortje to Mayank, FOUR! Pitched up and answers well. Crunched through the covers for a boundary. 8 runs from the over.

10.19 IST: Nortje to Mayank, FOUR BYES! Bounce, Mayank ducks but the ball hits his helmet and runs away over the slip cordon for four byes.

10.16 IST: Cheteshwar Pujara is the next man in.

10.15 IST: Rabada to Rohit, OUT! Gets his man finally. He constantly threatened with his line and length and Rohit couldn't fend off the extra bounce around his off stump and edges it to Quinton de Kock, who grabs an easy catch behind. IND 25/1 (10 overs)

10.13 IST: Rabada to Rohit, Strays down the leg side and Rohit flicks it for a double.

10.09 IST: Nortje to Mayank, FOUR! Fast, pacey delivery outside off but Mayank slashes hard and a misfield in the slips leads to another four.

10.07 IST: Anrich Nortje, the debutant, into the attack.

10.05 IST: Rabada to Rohit, FOUR! Unlucky once again. Extracts the outside edge but the ball drops short of slips and goes through the gap for a boundary.

09.57 IST: Rabada to Rohit, Short ball and Rohit hooks it but lands just short of fine leg. Single.

09.52 IST: Philander to Mayank, SURVIVES! CLOSE CALL! Ball nips back in and hits him on the pads but the umpire says not out. South Africa go for the review but ball tracking shows no edge and the ball just clipping the stumps. Hence, umpire's call and Mayank survives.

09.46 IST: Rabada to Mayank, FOUR! Bounce and Mayank plays at it but it goes in the gap at slips and the first boundary of the innings.

09.39 IST: Three runs from Rabada's first over.

09.36 IST: Kagiso Rabada to bowl from the other end for South Africa.

09.34 IST: A great first over from Philander. Swing and movement.

09.31 IST: Philander to Mayank, OFF THE MARK! First ball and first runs. Strays down the leg and clipped for a single.

09.31 IST: Players are coming out in the middle. Mayank Agarwal will take strike for India as Rohit Sharma starts from the non-striker's end. Vernon Philander has the ball for the visitors. Here we go!

09.10 IST: Playing XIs:

India: Mayank Agarwal, Rohit Sharma, Cheteshwar Pujara, Virat Kohli (C), Ajinkya Rahane, Ravindra Jadeja, Wriddhiman Saha (WK), Ravichandran Ashwin, Ishant Sharma, Umesh Yadav, Mohammed Shami
South Africa: Dean Elgar, Aiden Markram, Theunis de Bruyn, Temba Bavuma, Faf du Plessis (C), Quinton de Kock (WK), Senuran Muthusamy, Vernon Philander, Keshav Maharaj, Kagiso Rabada, Anrich Nortje
09.02 IST: TOSS: India win toss, opt to bat first in Pune. ONE CHANGE: Umesh Yadav replaces Hanuma Vihari in the playing XI

08.56 IST: PITCH REPORT: There is moisture due to rain and it is a green pitch. It should be a good Test match pitch but spinners will come into the game as the game progresses. Win toss, bat first. Negotiate the first session and you are good!

08.50 IST: Very concerned about Jasprit Bumrah's injury: Ravi Shastri
Ravi Shastri has stressed that the team management will have to be careful about managing Jasprit Bumrah's workload. [Read full story]
08.35 IST: Lucky to be in this position: Virat Kohli on leading India for 50th time in Tests
Virat Kohli will play in his 50th Test as the captain of Team India on Thursday, when the side takes on South Africa in the second game in Pune. [Read full story]
08.20 IST: Weather:
It's 24 degree Celsius now in Pune with cloudy skies. It is expected to stay that way throughout the day with a brief spell of shower expected around 2 PM.
Brief preview:
Besides the two participating teams, a lot of eyeballs will be on the 22-yard strip at the Maharashtra Cricket Association Stadium when India take on South Africa in the second Test beginning Thursday. The match will provide the hosts with a chance to wrap up the three-Test rubber and break the record for registering the maximum number of consecutive Test series wins at home. The Virat Kohli-led team won the first Test by a big margin of 203 runs and thus would enter the MCA Stadium brimming with confidence.