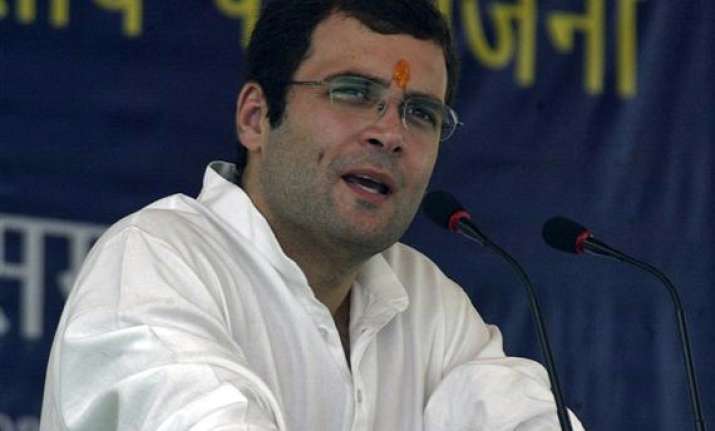 Allahabad, Oct 25: With a vow to rid the people of the "corrupt" Mayawati government in the Uttar Pradesh Assembly polls, Rahul Gandhi will kick start the Congress campaign by addressing a rally at Phulpur on November 14.

"Rahul will be in Phulpur on November 14, which happens to be the birth anniversary of his great-grandfather and first Prime Minister Jawaharlal Nehru. Moreover, Nehru used to get elected to the Lok Sabha from Phulpur," UP Congress, Chief Rita Bahuguna Joshi told reporters here.

41-year-old Rahul has been working hard to revive the fortune of Congress in the largest state after ensuring its victory in 21 of the 80 Lok Sabha seats in 2009 - up from just nine in 2004.

Joshi said, "The people of the state have suffered under one incompetent regime after another and we are confident that this time they will vote for the Congress in droves."

"We will be visiting Phulpur later next week to finalise the venue of the rally and begin preparations for the grand show," she said, adding the choice of the venue was decided at a high-level meeting of the party held in Delhi yesterday.

Phulpur tehsil, situated about 40 km from the city, falls in the trans-Ganga district of Allahabad, closely associated with the Nehru-Gandhi family.

The Lok Sabha constituency named after the tehsil has been represented by stalwarts like Nehru, his sister and renowned diplomat Vijay Laxmi Pandit and even former Prime Minister V P Singh, who had made his parliamentary debut as a Congress MP from this seat.

Joshi said, "A host of senior Congress leaders, including some Union ministers are likely to attend the rally from where Gandhi will flag off five 'jan sampark yatras' which will criss-cross the state to woo the masses."

Taking potshots at the chief minister, said said, "Mayawati was livid when Rahul had visited Bhatta-Parsaul in Greater Noida and has been leaving no stone unturned to prove that his allegations of police atrocities were false.

"Now, she must tell the people why has she ordered registering of FIR against the very policemen against whom these allegations were leveled."

The UP government yesterday registered FIR against 16 Provincial Armed Constabulary personnel accused of rape in Bhatta-Parsaul villages during anti-land acquisition agitation by local farmers.

Farmers of Bhatta-Parsaul villages had clashed with police in May protesting acquisition of their land by the state government. Four persons, including two policemen, were killed in the violence that had broken out during the anti-land acquisition stir.