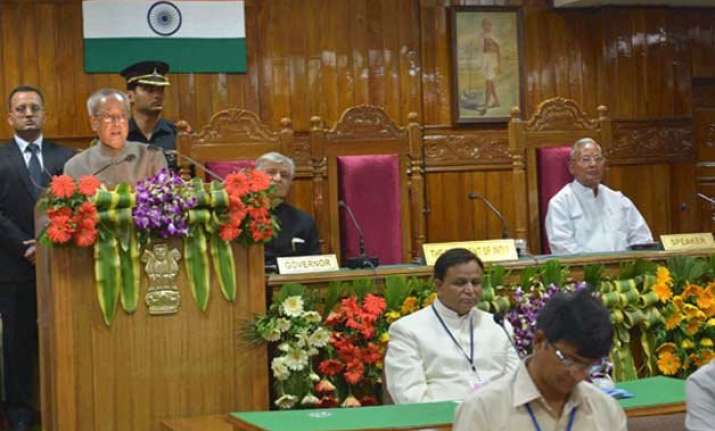 Dehradun: Terming a legislator's job a "24x7 responsibility", President Pranab Mukherjee said lawmakers must at all times be committed to addressing the problems of the people and raising their grievances in the legislature so to bring them to the government's attention.
Addressing the special session of the Uttarakhand Legislative Assembly here, he called on legislators to "give voice to the grievances of the public by raising them on the floor of the legislature and act as the link between people and the government".
"Every one of us who are in an elected office must remember that the people are our masters. Each one of us is here because we solicited votes and received their endorsement," the president added.
He said that in the assembly, discipline and decorum must be always maintained and rules, conventions and etiquette observed.
"Parliamentary practices, procedures and conventions are meant to provide for orderly and expeditious transaction of business of the house. Dissent should be expressed with decency and within the contours and parameters of parliamentary devices," Mukherjee said.
He also expressed concern that time devoted by legislators towards legislation was gradually declining across the country.
"With the heightened complexity of administration, legislation must be preceded by adequate discussion and scrutiny. If not, it will fail to deliver the desired results or meet its objectives. In particular, there is need for utmost caution in matters of legislation, money and finance," he said.
The president urged the Uttarakhand assembly as well as other assemblies to consider increasing the number of sittings so that issues of the state can be thoroughly discussed and debated.
He also suggested assemblies establish museums on legislative practices in order to bring people closer to the legislatures. They could also invite students to witness sessions and organise capacity building programmes for members of local bodies such as Gram Sabhas and Panchayats.