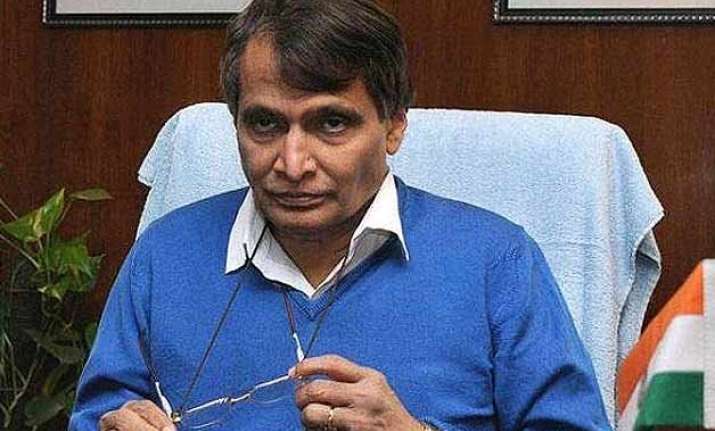 New Delhi: The Rail budget was criticised in Rajya Sabha by some opposition parties for not living up to the expectations of the people, while ruling party members hailed it as a bold one.
Moving the Rail Budget for consideration, Railways Minister Suresh Prabhu informed members that his ministry had signed an MoU with LIC which would open a line of credit of upto Rs 1.5 lakh crore which would help funding of projects.
Speaking after Prabhu, Mahendra Singh Mahra (Cong) said there were expectations from the Rail budget which it has not lived upto.
He said the development of rail network was important also from the security point of view as the expansion of rail, road network by China had come upto Indian border.
Vijay Goel (BJP) complimented the Railway Minister, saying he had presented a good budget.
Before the BJP government came, railways was not very good shape and there are several challenges ranging from losses to safety concerns that need to be addressed, he said.
He said the country had got a bold, practical and realistic budget after a very long time.
Kanak Lata Singh (SP) said farmers, workers and middle classes had been disappointed in the budget and there were no new announcements also.
She said while there is talk for starting Bullet trains, the common people may find it difficult to afford high fares.
Singh said the focus of the people in power should be to work for the common man.
Gulam Rasool Balyawi (JD-U) said things like wi-fi or ordering food online may benefit only a small section of passengers who travel in trains.
He also expressed objection to the manner in which Railways was carrying in publicity of Swacch Bharat campaign claiming that pictures of Mahatama Gandhi had been put on toilet walls. He added that perhaps those who respect the Mahatama's assassins may not have allowed such a thing.
Narendra Kumar Kashyap (BSP) demanded a review of the passenger fares which have been kept unchanged in the Budget proposal. He sought a slash in passenger fares of second class sleeper class and demanded special travel concessions for students.
Vijila Vijila Sathyananth (AIADMK) expressed disappointment over non introduction of new trains in the Budget despite increased passenger rush.
T K Rangarajan (CPI-M) sought reconsideration of running premium trains blaming exhorbitent ticket rates in such trains.
A U Singhdeo (BJD) described the budget as "pragmatic" and said railways should set up a committee to examine viability of several announced projects.
He said railways should not suffer because of the populist measures of the governments and that the Finance Ministry should be more considerate towards the public transporter by supporting through more subsidies.
Pradeep Kumar Balmuchu (Cong) criticised the budget saying it is only for the upper middle class and upper class and nothing for the poor.
"It would be right to say that it is an anti-poor budget. It has nothing for tribals either," he said.
The Congress member said new trains will have to be given to public, especially in such areas which are not developed.
He also criticised the Railways for earning from the pockets of consumers through ticket cancellations and said this amount touches a whopping Rs 30,094 crores.
Ashok Chavan (Cong) said the railway budget should have given more attention to backward regions like Vidarbha and Konkan as he claimed that they are not getting proper fund allocation.
He said demand for separate state comes from these regions because they do not get resources they require.
Varun Gandhi (BJP) praised the budget for giving priority to "fiscal prudence over political consideration".
He, however, wondered if running high-speed trains would be economically viable, saying that China is losing US 1.5 billion dollar per year on this.
R K Bharathi Mohan (AIADMK) and M Srinivasa Rao (TDP) praised the budget for not being biased in favour of one particular region. They, however, said their states did not get justice as their demands were not met.
Vinayak Raut (Shiv Sena) demanded doubling of single rail lines in Konkan region, saying accidents have risen due to that.