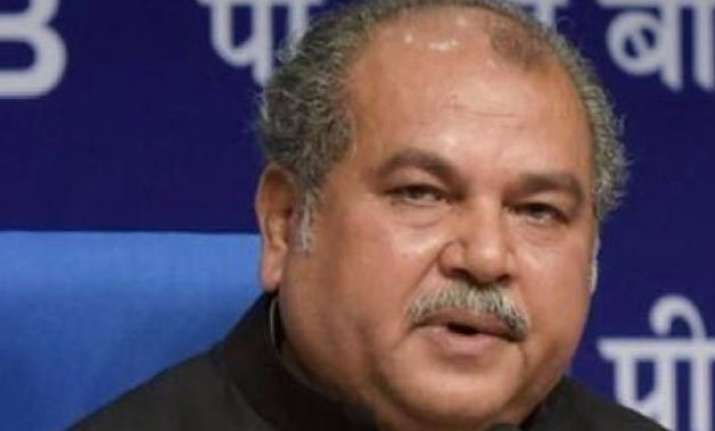 Bhopal:  Defending the embattled Madhya Pradesh Chief Minister over Vyapam scam, Union Minister Narendra Singh Tomar today said there was no need for Chouhan to resign over the scandal, which, he alleged, was being fanned by the Congress to tarnish his image.  
"There is no need for Shivrajji to resign. Congress is trying to tarnish his image over Vyapam scam by a false campaign for political reasons. Congress won't succeed in maligning his image," Tomar told reporters here.  
He said that as soon as Shivraj Singh Chouhan got to know about the Vyapam scam on July 7, 2013, he went for a fair probe into it.
"Shivrajji formed the Special Task Force (STF) to investigate the matter on August 24, 2013," the Union Steel and Mines Minister said.
The Madhya Pradesh High Court monitored the STF probe and the state government had no say whatsoever in it before the CBI appeared in the picture, following the apex court's order of last week, Tomar said.
The STF made 2,638 people accused in the scam. Of them, more than 2,000 were arrested, he said, adding that more than 300 accused are still in the jails of Madhya Pradesh.  The Congress is running a false campaign since a long time.
"Public had rejected our opponents many times, including the last Assembly and Lok Sabha elections," he said.  
Congress is now exaggerating and running a false campaign to sully the image of Chouhan over Vyapam scam once again, Tomar alleged.
The Vyapam scam was very unfortunate and the deaths related to it were saddening. "The MP police had already started the probe into it which now the CBI will do," he said.
Under the leadership of Chouhan, the state has scaled newer heights and has come out of the BIMARU (laggard) tag.  
The GDP and agriculture growth rate of MP has gone up manifold, he added.
The CBI has been tasked with the responsibility of probing the massive rigging of examinations for jobs and admission to various educational institutions, including medical colleges, conducted by the MP Professional Examination Board (MPPEB), also known as Vyapam.  
The Congress has alleged that so far 49 people linked to the scam in some way have died, though the official figure of "unnatural deaths" submitted by the SIT to the MP High Court so far stands at 25.
The scam involves several professionals, high-profile politicians and bureaucrats.
The Congress has even accused Chouhan of complicity and demanded his resignation.