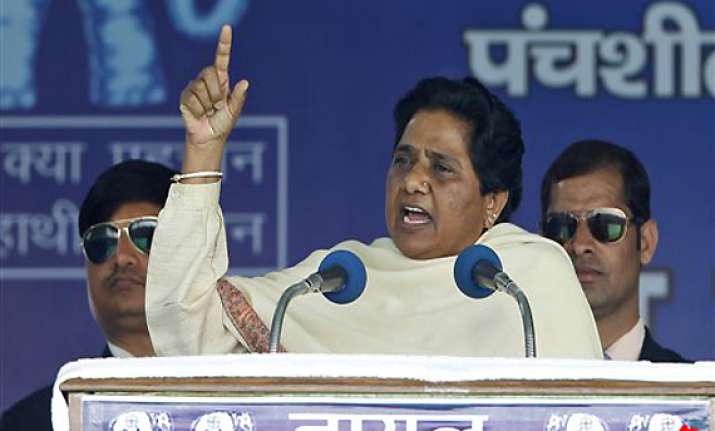 Lakhimpur (UP), Feb 29: Smarting under repeated attacks from her opponents, Chief Minister Mayawati today targeted both Congress and BJP on the issues of corruption and black money, saying both were "equally responsible" for these.

At an election meeting here, she cautioned the people that if they voted SP to power, "goons and mafia will rule the roost" and the state will be pushed to "jungle raj".

"If you vote Congress to power it will push Uttar Pradesh to more poverty and unemployment by bringing in foreign companies in the name of FDI.

"And, if BJP is voted to power, communal and feudal forces will pose a serious threat to religious minorities," she alleged.

The BSP supremo attacked entire opposition in general and appealed to voters not to get lured by "false promises" of rival parties.

She said BSP was the only party which believed in work and not in giving assurances as other parties did.

"This is why BSP, unlike others, never issues any poll manifesto to woo voters," she said.

Attacking Congress, Mayawati held UPA government responsible for the poor economic condition of her state.

"To improve the financial health of the state, the BSP government demanded a financial package of Rs 80,000 crore from the UPA government, but due to political animosity, the package was denied," she alleged.

On the reservation issue, she alleged that the NDA government "connived" to scrap quota for Dalits and religious minorities but owing to BSP's stiff opposition, it did not succeed.

"Now, the Congress-led UPA government intends to include other castes in the 27 per cent reservation list for OBCs without extending the reservation limit," she said.