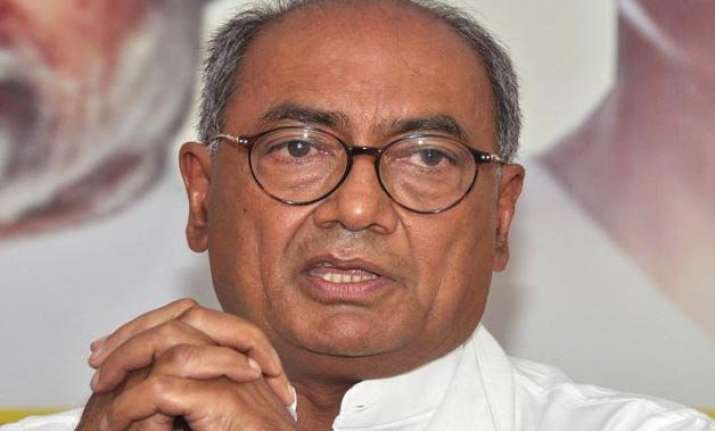 New Delhi: Congress today charged that the passage of the coal and mines and minerals Bills in Parliament would "take away the rights" of states and enable "backdoor de-nationalisation".
"Earlier, they (BJP) used to make allegations of 'J-tax'.  Now, it seems there will be a 'P-tax'. P for Piyush Goyal," Congress leader Digvijay Singh told reporters at an AICC briefing here.
He was alluding to BJP's attack on former Environment Minister Jayanthi Natarajan in the run up to Lok Sabha polls when Narendra Modi had come up with the 'J-tax' barb to refer to allegations that a bribe had to be paid to secure environmental clearances for projects during her tenure.  
The AICC press conference, which was addressed jointly by former Commerce Minister Anand Sharma and former Rural Development Minister Jairam Ramesh along with Singh, saw the leaders making allegations of "backdoor de-nationalisation" of coal through the passage of Coal Mines (Special Provisions) Bill, 2015.
Suggesting an increasing left-of-the-centre tilt, the Congress leaders charged that the measures were anti-poor, anti-tribal and anti-states. However, a number of regional parties did not support Congress's stand on these Bills in Parliament.
The leaders at the same time insisted that Congress is "not against auction".
"A false impression is being created by BJP that Congress and other parties which opposed the Bill are opposed to auction... We are for auction. We have always been for auction, unlike the BJP, which has changed its stand," the Congress leaders said as they claimed that their party was the first to allow auction starting with the late PV Narsimha Rao's tenure as prime minister.
They said the delay happened in auction of coal blocks as the chief ministers of BJP-ruled states first opposed it and the matter went to Supreme Court.
"Congress's objection to both the Bills is based on two things—there was simply not enough consultation and the manner in which both the Bills were bamboozled and forced through as well as their provisions," Ramesh said.  
Claiming that Congress has taken a principled stand on the two Bills and is opposing them as they go against the interests of labour, tribal rights and common man, Singh referred to the nationalisation of coal done by Indira Gandhi in 1973.
"Through the backdoor, the government weakened that nationalisation. It carried out a de-nationalisation of coal through backdoor," Singh said, adding that the Ordinances, which were converted into Bills, have "taken away the rights" of states.