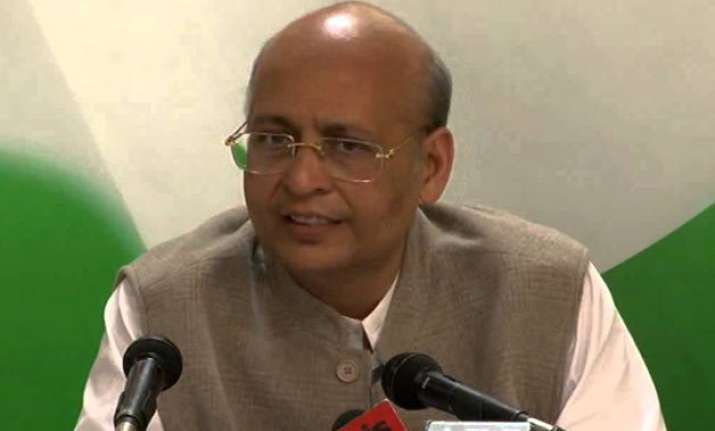 New Delhi: The Congress today indicated it would not support any government move to bring back a new version of the National Judicial Appointments Commission for appointments to higher judiciary, a day after the Supreme Court struck it down to pave the way for return of the collegium system.
"We are not going to support adventurism of the government per se," Congress spokesman Abhishek Singhvi told reporters when asked whether the party, which had backed the NJAC Bill, will support any fresh move by the government to bring a new law to give the executive a say in appointment of judges to the higher judiciary.
"You have to forget the past and look ahead. ….The way forward is to realise that there is a great trust deficit as far as the government is concerned.
"That grave and great trust deficit arises not from an individual act — there is a perceived assault on Institutions on procedures and practices and persons which has led to a feeling that this government wants to impose its will through institutions including the judiciary," he said.
He also deprecated the government's "adventurism" in subverting "hallowed" institutions.
"The adventurism we have seen till now has been of subverting hallowed Institutions and certainly the judiciary is the most hallowed of them.
"You may not have seen a direct assault till now but given the past record, in less than 18 months in trying to dilute and subvert Institutions, I think it is a very fair warning where the judiciary is concerned," he said referring to the apex court's verdict that will bring back the collegium system of judges appointing judges.
He asked the government to "please remove clearly perception and understanding of the people from your actions that you are trying to subvert institutions."         
Singvi, a prominent Supreme Court lawyer, however, said the Congress would look forward to reform of the collegium system at the November 3 hearing by the Supreme Court in the matter.
The Congress had yesterday targeted the Modi government, saying the NJAC judgment implicitly reflected "lack of confidence" in the government, which has "eroded" institutional autonomy and constitutional safeguards over last 17 months.
"Independence of judiciary is a key fundamental of our democracy. There can be no compromise on the same," Congress' chief spokesman Randeep Surjewala had said.
The Congress leader had expressed confidence that Indian democracy will find a way out of the situation.