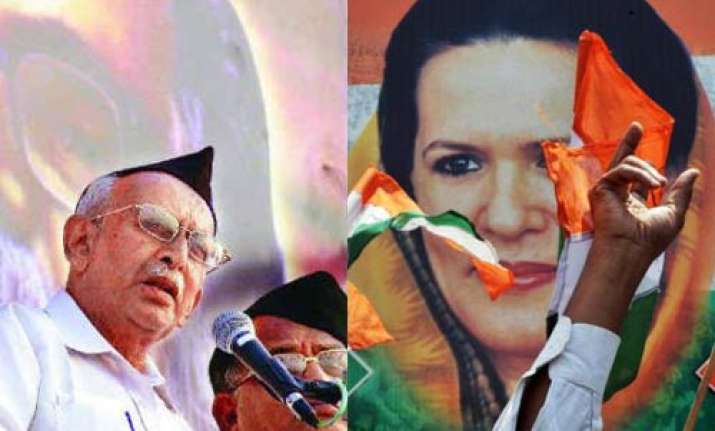 New Delhi, Nov 11 ; The Congress today lashed out at the RSS for its former chief K S Sudarshan's defamatory and unprintable remarks against party president Sonia Gandhi, and gave a call to party workers to stage nationwide protests.
Party general secretary Janardhan Dwivedi said, the entire nation should read the sort of language used by Sudarshan in levelling false and baseless charges against Sonia Gandhi and decide for itself whether such language should be used in political discourse. 
Dwivedi read out a Hindi newspaper report from Bhopal in which Sudarshan had made these remarks. "If Congressmen incensed over such remarks do anything against the RSS, the responsibility shall lie with the RSS", Dwivedi said. 
The Congress general secretary said, Congressmen should maintain peace but should protest in such a manner that  no person should have the courage to level such frivolous charges. 
"The people of India should know that Rajiv Gandhi while staying in her mother's Prime Minister's residence used to take care of his family with the salary that he earned. He even used to take his wife Soniaji on his bike while moving around Delhi. Neither Rajiv, nor Soniaji recommended a single case while staying in the PM's residence. It was Soniaji who refused to take over as party chief after Rajivji's assassination and did not join politics for seven long years. It was  only after the entire Congress leadership went to 10, Janpath that Soniaji took over the party's reins because the party was in crisis. People of India know whose government withdrew Rajivji's Z plus security when he was out of power". 
Dwivedi challenged the BJP and RSS leaders to come out and react   over Sudarshan's remarks. 
Replying to a question, Dwivedi said, imposing ban on RSS was not the answer. 
On Jayalalithaa's open unconditional offer of support, Dwivedi smiled and said: DMK is our  important alliance partner. Whatever Jayalalithaaji has said, these may be her feelings".