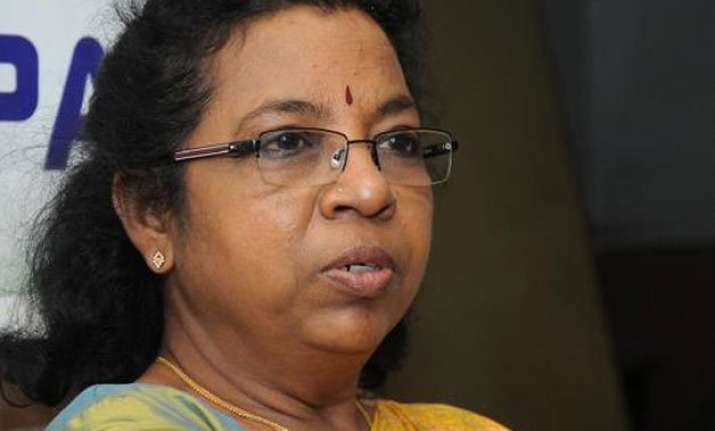 New Delhi: Aam Aadmi Party (AAP) leader Christina Samy on Wednesday tendered her resignation from the party's National Executive.
Samy was the only woman left in the party's National Executive. On March 4, she voted against the ousting of yogendra yadav and Prashant Bhushan from the party.
Samy is the fifth person to exit the original 21-member national executive. Besides Bhushan and Yadav, academicians Anand Kumar and Ajit Jha were also ousted in the March 28 national council meeting.
Out of the 311 national executive members present in yesterday's national council meeting, an overwhelming 247 members voted against Bhushan and Yadav while just 8 votes were cast in their favour.
The party also removed Anand Kumar and Ajit Jha from the national executive.
The party's internal rift had widened after Yadav and Bhushan were accused of working for party's defeat during the Delhi Assembly polls last month. (ANI)
While speaking of the party's agenda to tackle corruption and criminality, Samy said, "Unfortunately, all I am left with today is an uncertainty, I doubt if
AAP still holds the same strengths and whether its integrity is still intact. If Mr Prashant Bhushan and Mr Yogendra Yadav's claims are false, why was the system we ourselves created, the internal Lokpal, not implemented?''
Read her resignation letter here…
Renganathapuram,April 1st, 2015
Krishnarayapuram Taluk,
Karur Dt. – 639108
Tamilnadu
Dear National Executive Members,
With great regret, I submit my letter of resignation from the responsibility of National Executive member of AamAadmi Party.
Recent events in Aam Aadmi Party have left me no choice but renounce my post.
After having worked for 33 years among grassroots, building movements for women's rights, empowering women for their protection and fighting for their justice, participating in Local body elections; having fought against illegal sand mining consistently for 23 years until June 2012 when I was a petitioner in High Court; having founded Women's Front, a TN State level political movement, creating alternative politics and space for women in it, I had the privilege of embarrassing the "New Party" (the working title we used for what is now the Aam Aadmi Party) in September 2012, when Mr. Arvind Kejriwal and Mr.Prashant Bushan spoke with member organizations of Lok Rajnithi Manch.
AAP is the dream of millions. Its vision, ideology, principles, policies, codes of conduct, constitution, the systems we created for ourselves to ensure integrity, all made AAP unique. We were brave facing the rest of the political parties in our country. AAP challenged the corrupt and the criminal. These and more made me a proud contributor to the furthering of this party's agenda.
Unfortunately, all I am left with today is an uncertainty, I doubt if AAP still holds the same strengths and whether its integrity is still intact. If what Mr. Prashant Bushan and Mr.Yogendra Yadav claim are false, why was the system we ourselves created - the Internal Lokpal - not implemented.
Volunteers are AAP's back bone. The plea of thousands and thousands of volunteers from all corners of India and the NRIs all over the world has been just one; to follow the constitution, exercise democracy and respect the hope that millions have placed on AAP. AAP was to be a people centered party. Initially AAP consistently went back to the people for decisions but today, we have turned a deaf ear to the voice of volunteers, our people. In the course of recent events these volunteers had remained impartial and were objective when appealing to the National Executive Committee only to find the integrity that was built, nurtured and promised to them, now gone.
I am resigning from my post in the National Executive Committee as I feel volunteers have been betrayed, AAP has lost trust in its own founding principles and the constitution and system of Lokpal. It has shattered the hopes and dreams of millions of common people.
I thank you for the privilege of having been a National Executive member since the inception of AAP and an "active" State Convener until February 2014. To the best of my conscious I had been loyal only to the party and its principles and not to any individuals.
I sincerely wish you all the very best in your future endeavors.
Please consider this my official notice of resignation from my post in the National Executive Committee.
Best Regards,
Christina Samy.