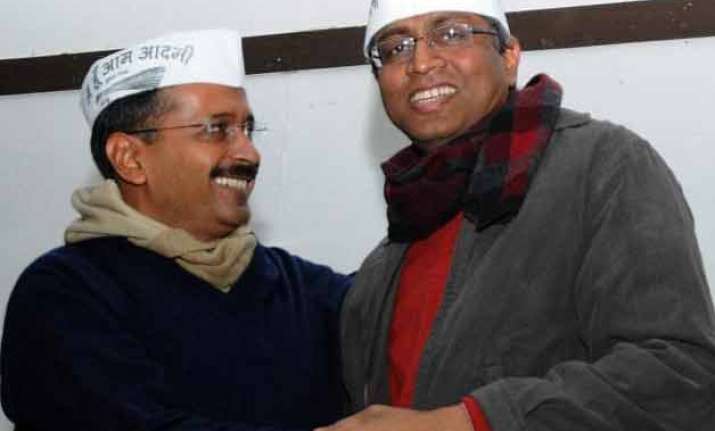 New Delhi: In a scathing attack on party dissidents Yogendra Yadav and Prashat Bhushan, AAP leader Ashutosh today came down strongly on them for "conspiring" and attempting to remove Arvind Kejriwal from the post of its national convenor.
Ashutosh hinted that Yadav's "fatal ambition" to become the convenor led to his ouster from top party panels and, accused the rebel duo of "knowingly or unknowingly" helping BJP and Prime Minister Narendra Modi.
Also Read: Kejriwal justifies expulsion of Bhushan and Yadav
He also accused them of lying about bouncers being present at the February 28 National Council meeting which passed a resolution to remove them from the party's National Executive.
"Sometimes ambitions become a fatal flaw. When everybody who are equal walk together and one manages to walk ahead of the others, then the rest feels left out. It's a psychological problem.
"History will judge as to what they have done to the party. I hope history is brutal and ruthless with them. I never expected them to conspire to remove Kejriwal from the post of national convenor...it's a battle of mean egos," he told CNN-IBN.
He expressed his anguish over the duo attacking Kejriwal when he was "at his weakest".
The journalist-turned-politician also compared the Delhi Chief Minister to the likes of "Gandhi, Nehru, Lenin, Mao, George Washington, Lincoln, Rossevelt" saying he was a leader "in that club" on being asked whether Kejriwal was dictatoral and ruthless in dealing with rebels.
"A strong leadership is needed for any political discourse to become dominant. And if Kejriwal ha strong belief we have to accept that," he said, adding that there was space for different opinions in the party which he said was not an "NGO".
"AAP is product of a movement. It may have certain remnants of that movement. But a political party can't behave like an NGO," he said.
Ashutosh however, evaded questions on the removal of Atishi Marlena but said that her letter vindicated that Yadav and Bhushan was responsible for the breakdown in truce talks on March 26.
"Does Prashant Bhushan have the guts to say that Atishi and Alok Agarwal is lying? ...he's dictatorial. He used to shout at the top of his voice at many PAC meetings of the party," Ashutosh said.
He also wondered as to why Yadav did not raise issues of internal democracy in the party when he was made AAP's Haryana in-charge. "How many volunteers were consulted then?"
On the removal of Admiral L Ramdas from the post of internal Lokpal of the party, he said the former ombudsman's mandate was "not to get involved in internal politics".