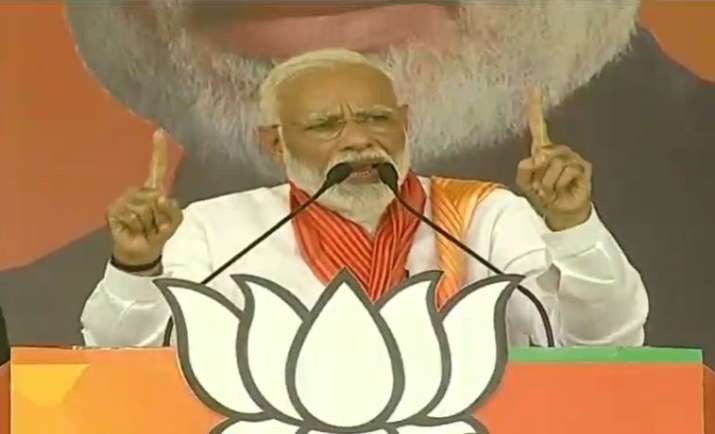 Prime Minister Narendra Modi, on Sunday, addressed a public meeting in Bhadohi, Uttar Pradesh. While attacking the previous governments PM Modi said, "The country has seen four types of parties, four types of governance, four types of political culture. First - Naampanthi, second - Vaampanthi, third - Daam aur Damapanthi and the fourth which has been brought by us - Vikaspanthi."
Here are important excerpts from PM Narendra Modi's address in Bhadohi
850 people of our country were locked up in jails of Saudi Arabia. Its Crown Prince was visiting India. The month of Ramzan is approaching, I requested him to release them so that they come home for Ramzan. He accepted my proposal & released them even before Ramzan: PM Modi
I would like to tell the Muslim sisters of Bhadohi & across the nation, several countries don't have the provision for Triple Talaq. We want to give the same rights to our Muslim sisters which have been provided to the sisters in Muslim countries: PM Modi
We don't disrespect anyone's religious faith we just follow the constitution: PM Modi 
The constitution provides for equal rights to both men & women: PM Modi
Opposition parties relate surgical strikes with LS polls, but everything should not be seen through the prism of elections: PM Modi
'Mahamilawati' parties don't want to acknowledge India's growing strength in the global arena: PM Modi
Bhadohi in UP is famous for its carpets. It has a sizeable Muslim population. It goes to polls on May 12 in the sixth phase. 
To constitute the 17th Lok Sabha, the general election is currently being held in seven phases from 11 April to 19 May 2019. On 23 May, the counting of votes will be conducted and on the same day the results will be declared.
With the general election, Legislative Assembly elections in the states of Andhra Pradesh, Arunachal Pradesh, Odisha and Sikkim are being held simultaneously.
WATCH VIDEO: