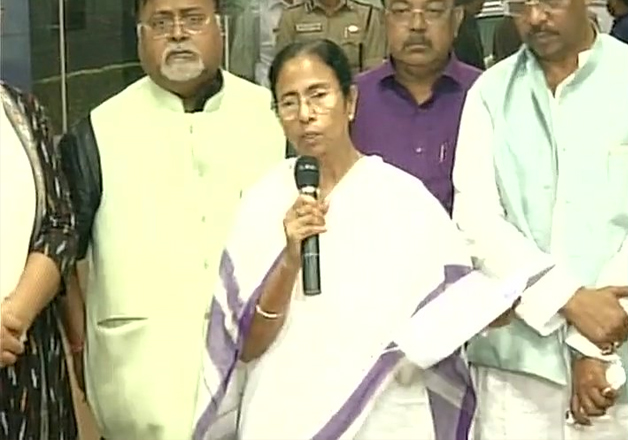 West Bengal Chief Minister Mamata Banerjee today ended her protest against Army deployment and moved out of the secretariat after over 30 hours saying she has 'great respect for the Army' and that armed forces should not be used for political vendetta. 
"I have great respect for the Army but why are they being used for political vendetta? This is wrong," she said.
Stating that the Narendra Modi government has become 'daku (dacoit) govt', she said, "Just want to say that Modiji is looting people's money."
The Chief Minister, who left office after 30 hours amid row over Army deployment at toll plazas, said that she will continue her fight and will take up the matter legally.
"If government doesn't withdraw army deployed in the state, we will fight legally," she said. When specifically asked if she would be initiating legal proceedings in the matter, Mamata replied: "It has already been done." 

Meanwhile, Wing Commander SS Birdi, Eastern Command spokesperson, said that the Army deployment in West Bengal won't be called off and that the routine exercise will continue till midnight today.
It all started last evening when Banerjee accused the central government of deploying Army at several highways toll plazas while keeping the state government in dark. 
She stayed put at the state secretariat on Thursday night arguing that she was keeping vigil at the secretariat to "protect democracy", the federal structure and her elected government. But the CM's political opponents lashed out at her for trying to use the army to score political brownie points.
Army too strongly rebutted Chief Minister's allegations that its personnel were deployed at toll plazas without informing the state government and were collecting money, saying the exercise was being carried out in coordination with Kolkata Police. 
The Army also showed as many as nine copy of letters given to all concerned departments in Bengal, demolishing Mamamta's claims that the government was never consulted on the exercise by the Army.