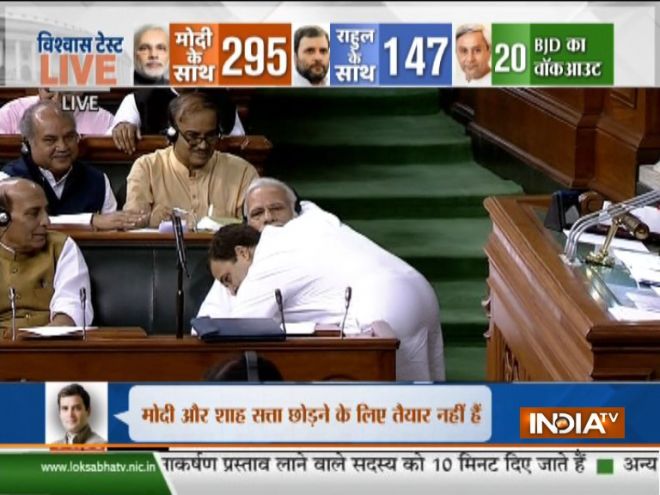 Union minister of State for Home Affairs Kiren Rijiju on Friday termed Rahul Gandhi's hug to Prime Minister Narendra Modi inside the Parliament as "drama".
Rahul Gandhi does drama, said Rijiju.
While Harsimrat Kaur Badal of Shiromani Akali Dal (an alliance of BJP) termed the entire episode as funny and said, "Rahul Gandhi's statements have resulted into an earthquake of laughter."
Known for his hugs but this was one Prime Minister Narendra Modi was not expecting. 
After a scathing criticism of PM Modi on several issues including Rafale jet deal, Congress president Rahul Gandhi walked across to the PM and hugged him. His gesture which took the Lok Sabha members by surprise. 
Modi initially looked nonplussed and did not stand up to hug him. However, he recovered quickly and called Gandhi back and patted him on the back. 
"This is what it means to be a Hindu," Gandhi said after coming back to his seat amid a big applause from his party members, including his mother Sonia Gandhi and other leaders present. 
Sharply criticised for his reported remarks that "Congress is a Muslim party", Gandhi said, "Prime Minister Modi and BJP have taught me what it means to be a Congress person, the meaning of being a real Indian and what it means to be a Hindu in real term. For this, I thank them."