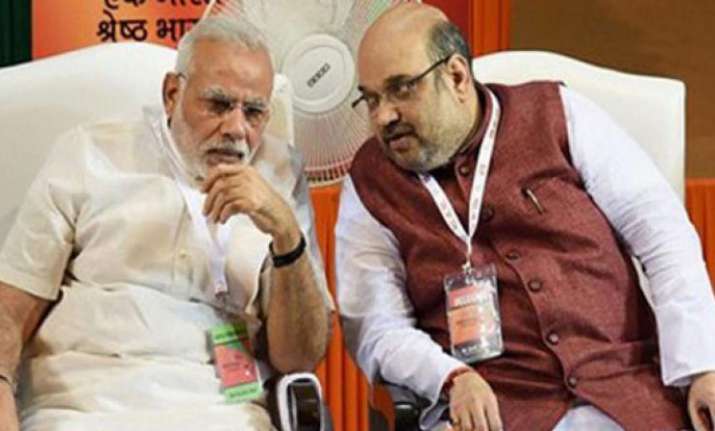 During the washed-out Budget Session of Parliament the ruling Bharatiya Janata Party (BJP) appeared reluctant to agree to the Opposition's challenge to face a no-confidence motion. However, on the first day of the Monsoon Session, the BJP surprised many by agreeing to it. There was a clear shift in the strategy of the BJP and it had the Congress-led Opposition scampering for new tactic to tackle the situation.
Leader of Opposition in Lok Sabha Mallikarjun Kharge had urged that the debate on the no-trust motion should be held within the next 10 days. However, Speaker Sumitra Mahajan set Friday (July 10) as the date for debate leaving the Opposition surprised. The TMC objected to her decision as the Mamata Banerjee's party has planned a huge rally in Kolkata. Kharge supported the TMC's demand for a new date, but Speaker Mahajan was firm on her stand.
Sources said it was BJP president Amit Shah who advised the Government to go ahead and face the no-confidence as it will then render the Opposition's ploy to corner it in Parliament as fruitless. 
The BJP is confident that it will get support from within the NDA as well as from a few parties outside. By proving its majority on the floor of the House, the BJP also wants to demolish the Opposition's claim of 'unity' ahead of 2019 Lok Sabha elections. By defeating the no-trust motion, the BJP also aims to send out a strong message to the Opposition that their 'unity' wasn't strong enough to face the strength of the BJP and its allies.
Sources in the BJP said the government would get the support of at least 314 MPs in the lower house, which has an effective strength of 535 members. 
"The entire country has confidence in Prime Minister Narendra Modi," Union Parliamentary Affairs Minister Ananth Kumar said.
 
"We are hopeful that we will get support from parties outside NDA as well. It is strange that opposition brings this motion despite the fact that the BJP got majority on its own and today NDA is ruling in 21 states," Kumar told reporters. 
The no-trust motion in Parliament that was moved and accepted by Speaker Sumitra Mahajan for the first time in 15 years does not pose a threat to the government as the NDA enjoys a comfortable majority. 
In August 2003, the Congress with the help of other opposition parties had moved a no-confidence motion against the Atal Bihari Vajpayee government but it was defeated by a huge margin.
WATCH: Full report on Aaj Ki Baat Rajat Sharma Ke Saath 
(With inputs from PTI)