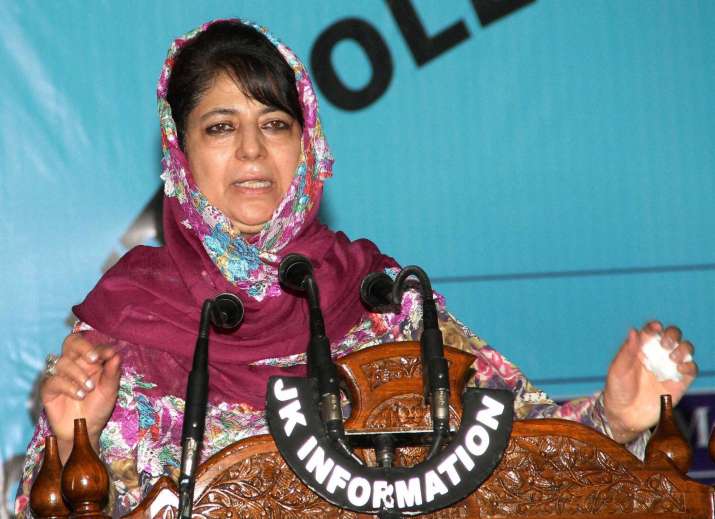 Two days after India decided to "exploit to the maximum" the water of Pakistan-controlled rivers under Indus Water Treaty, Jammu and Kashmir Chief Minister Mehbooba Mufti said on Wednesday said that the state has suffered losses due to the agreement and should be compensated by the Centre. 
"Today, many things are being talked about. There is a talk of Indus Water Treaty (IWT)... We are facing losses on account of IWT. We should get compensation and we cannot ask Pakistan for that but our own country. 
Whatever we get, be it our power projects or anything, we should get," she said at a function here. 
Under the Treaty, which was signed by Prime Minister Jawaharlal Nehru and Pakistan President Ayub Khan in September 1960, control of three rivers flowing through Jammu and Kashmir -- Jhelum, Indus and Chenab -- was given to Pakistan while India was given control over Beas, Ravi and Sutlej, all passing through Punjab. 
Because of the treaty, no big dams or power projects can be built by India on Jhelum, Indus or Chenab. 
"There have been so many wars, but IWT wasn't touched because both the countries benefited from our resources, even as J&K suffered losses," Mehbooba said while speaking at the launch of PM Ujwala Yojana. 
Her remarks came two days after the Prime Minister asserted that "Blood and water cannot flow together" and decided that India will "exploit to the maximum" the water of Pakistan-controlled rivers, including Jhelum. 
The government has decided to "review" the suspension of construction on the Tulbul navigation project and also expedite the construction on three dams on River Chenab; Pakul Dul Dam, Sawalkot Dam and Bursar Dam.
Held amidst heightened tension between the India and Pakistan, the meeting also decided to set up a inter- ministerial task forces to go into the details and working of the Treaty with a "sense of urgency", senior government sources said. 
The government has also decided to suspend the meetings of Indus Water Commission, official Sources said, adding that the meeting can "only take place in atmosphere free of terror". '
The Commission meets twice a year and has held 112 meetings so far. Since the treaty was signed in 1960, the commission has failed to hold meetings, even during the period of wars in 1965, 1971 and Kargil wars. 
Mehbooba said her father and former Chief Minister Mufti Mohammad Sayeed had wanted joint use of resources by both the countries for friendship between them.
"Mufti sahab always had this thinking that we should both do such things so that we can use our resources jointly for our as well as their benefit so that there is friendship instead of animosity. But unfortunately, even as there were many attempts, it has not happened so far, she said.
The chief minister said she had hoped Prime Minister Narendra Modi would visit Pakistan for the SAARC summit in November but noted that he cannot go under the circumstances following Uri attack.
"SAARC was to happen in Pakistan and I had hopes that our PM will get an opportunity to go there but how will he go? Under what circumstances will he go there?" she said.
India, along with Bangladesh, Bhutan and Afghanistan, have decided not to attend the 8-nation Summit because of unabated cross-border terrorism from Pakistan, the venue.
(With PTI inputs)