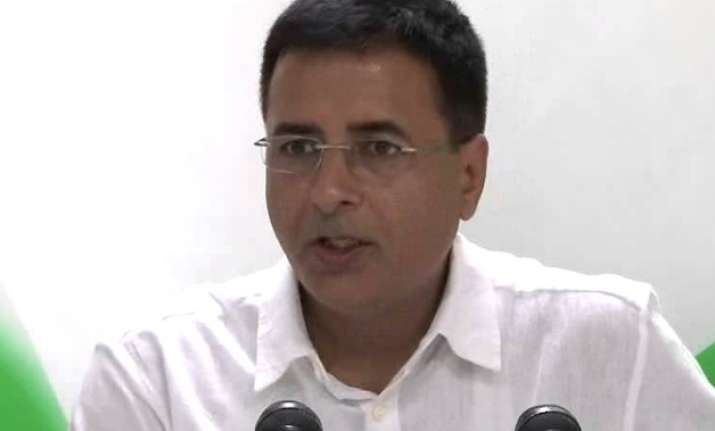 New Delhi: The Opposition Congress on Friday reacted sharply to government's move of slashing interest rates on all small savings schemes, including PPF, saying it is "fleecing" the poor and is a "criminal breach" of the trust of people.
Congress said it is "flabbergasted" by government's attitude, which allows wilful defaulters of public money to escape and launches "fair and lovely" scheme to encourage tax evaders.
"The Narendra Modi government seems hell bent on fleecing the ordinary poor, middle and lower-middle class. It is a criminal breach of trust with hapless people who put their money in the custody of the government of India with the belief that they will not be cheated," Congress spokesperson Randeep Surjewala said.
He said the decision to slash interests rates on small savings schemes, PPF and KVP, which contain small, lifetime savings and investments of salaried employees of the non-government sector, marginal farmers and street vendors, was nothing but an "overt attempt at robbing money by snatching it from unsuspecting individuals".
He said Modi and finance minister Arun Jaitley, along with the Sangh Parivar, have developed a "deceitful and devious" modus operandi of first creating an atmosphere where the public discourse gets consumed by and involved in some "inane controversy" and then introduces anti-people policies while public and media attention is away.
"One is flabbergasted by this attitude of this government, which entails letting wilful defaulters of public money escape, encourages tax evaders by launching 'fair and lovely' schemes and benefits from cutting into savings of ordinary middle and lower middle class people," he said.
Communist Party of India-Marxist (CPI-M) general secretary, Sitaram Yechury, tweeted, "Small savers are the backbone of our savings. With no social security net, they rely on such guaranteed returns."
Meanwhile, economist Ashwini Mahajan, also the co-convenor of Swadesh Jagran Manch, spoke against the move, saying that "it will leave adverse impact on the domestic savings".
"As a student of economics, I feel the authorities must reconsider about the decision. I do not think there was enough and good ground at the moment to slash the interest rate on the PPF," Mahajan told IANS.
The government on Friday slashed interest rates on all small savings schemes, including the PPF, Kisan Vikas Patra (KVP) and senior citizen deposits, to make them more market aligned.
Interest rate on Public Provident Fund (PPF) scheme has been cut to 8.1% for the period April 1 to June 30, from 8.7% at present.