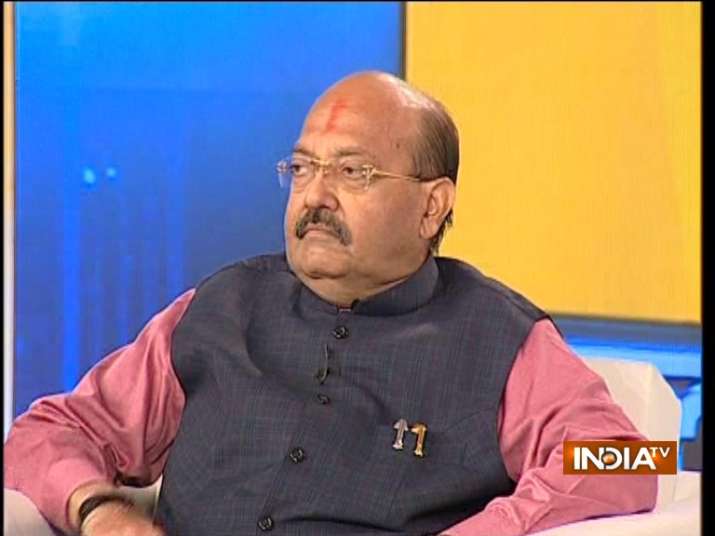 Rajya Sabha MP Amar Singh today described Jaya Bachchan as a good parliamentarian but not worthy of becoming a mass leader like BJP MP Hema Malini. 
Replying to questions at India TV Samvaad Conclave here, Amar Singh in a stinging remark said: "Jaya Bachchan and I have moral differences. She is pro-active in parliament, takes her files to Rajya Sabha like a  child taking a slate  to school, and stays inside the House till the final gong sounds. 
"One reason behind this is that she is not a mass leader, she dislikes people. If photographers take her snap, she snatches away the camera. If any smelly person comes near her, she says, keep this "dhoti pershaad' away from me. She belongs to elite class. As an MP she is good, but as a mass leader she is hopeless. On the other hand, Hema Malini likes meeting people in Mathura, she won her election from there, but Jaya Bachchan can never dream of winning a Lok Sabha election."
On Naresh Agarwal's remark against Jaya Bachchan, Amar Singh said: "We expected such a remark from him, because he belonged to that party, where they treat women like this. I was acting as a Shukracharya, the guru of Rakshasas in that party for decades.
"Only yesterday, Azam Khan (SP leader) made abusive remarks about Jayaprada, but neither Mulayam Singh nor Akhilesh Yadav said a word against him. Any why is Jaya Bachchan silent?
"Where was Jaya Bachchan, when nude photographs of Jayaprada were being circulated, when acid was being thrown at her, when efforts were made to abduct her? She is a woman, the 'bahu' of poet Harivanshrai Bachchan, I feel pain when remarks like 'naachne wali' is made about her. This remark is also an insult to Lord Shiva, the Nataraja, and the Kathak maestro Birju Maharaj too. I feel sad about such actions against both Jayas. I can't be selective."
Amar Singh praised UP chief minister Yogi Adityanath saying that during his regime, massive corruption in excise department that existed for last two decades has ended. "This was possible because of Yogi in UP and Modi at the Centre, and both are honest."
Asked whether he was giving a certificate of honesty to Yogi, Amar Singh replied: "Of course, but I have neither sought time to meet Yogi ji since he became CM, nor did I go to meet him. A man who has dinner on plates made of bell metal, who dislikes airconditioners, who keeps corrupt officials away from him, has stopped corruption."
He however criticized what he called as "mismanagement" during the recently held Global Business Summit in Lucknow. 
Amar Singh said: "My experience was worse. I was invited on a VVIP card, but there was no seat for me. When I was about to exit, Aradhana Shukla offered me her seat. Industrialist Kumaramangalam Birla was asked to show his lunch coupon. They were seeking food coupons from those from whom the govt was seeking thousands of crores of investment. The management was horrible. I don't think a single industry will be set up despite MoUs being signed."
Amar Singh also praised Prime Minister Narendra Modi. "His bhabhi (sister-in-law) runs a scrap shop, his brother is a lower division clerk, his mother stays in a single room, and his elder brother Somabhai was lying on a bed in a dormitory of a government hospital in Gujarat, when I met him. And yet people will say, I am speaking like Modi's sycophant."
He also praised RSS and its front organisation Sewa Bharti for helping renovate the samadhi of Maharana Pratap in Rajasthan. 
WATCH FULL VIDEO: