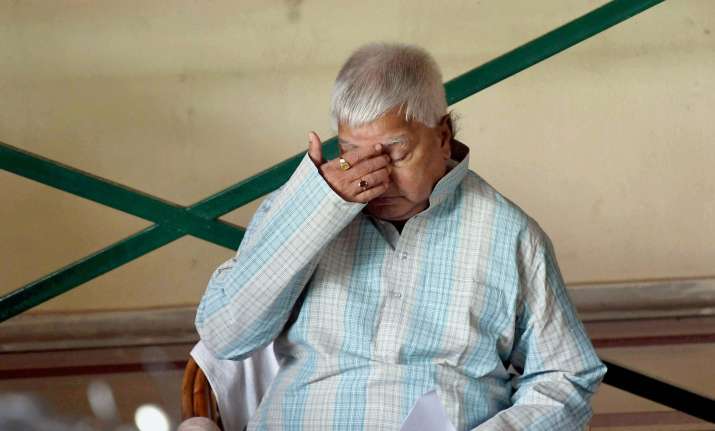 Rashtriya Janata Dal president Lalu Prasad Yadav's mega anti-BJP rally "Desh Bachao, Bhajpa Bhagao" on August 27 in Patna appears to be weakening with just days left to what has been dubbed the party's mega offensive against the government following its ouster from power.
The rally suffered successive setbacks on Tuesday as Congress President Sonia Gandhi and Vice President Rahul Gandhi expressed their inability to attend the rally. 
The Congress said today that neither Sonia Gandhi, who is party chief, nor her son Rahul Gandhi, who is Vice President, will appear at the rally which will target PM Modi and his policies. Instead, the party said, Ghulam Nabi Azad, a senior leader, will read out a statement for the occasion on Sonia Gandhi's behalf.
"I have got message from Sonia Gandhi that she will not be able to come for the rally. She will be sending Ghulam Nabi Azad and CP Joshi for the rally. As far as Mayawati is concerned, she will be sending Satish Mishra from her party. West Bengal CM Mamta Bannerjee will come for rally. Rahul Gandhi might also come," said Lalu Yadav. 
Earlier, Bahujan Samaj Party chief Mayawati, whose membership was considered as a key attempt to curb the BJP's reach in the politically crucial state of Uttar Pradesh, also pulled out of the rally.
Lalu Yadav said that Mayawati's absence from the event was not a "setback". 
"I had a talk with Mayawati. She said senior BSP leader Satish Mishra would come for the rally," he said. 
At the time of announcing the 'BJP Bhagao Rally' (oust BJP rally) at the Gandhi Maidan here, Prasad had boasted of bringing Mayawati and Samajwadi Party (SP) president Akhilesh Yadav together on one platform, which would mean the "end of the match for the BJP in the 2019 Lok Sabha polls". 
Meanwhile, Lalu, flanked by Tejashwi Yadav and senior party leader Jagdanand Singh, alleged that "the Prime Minister's visit on August 26 is aimed at foiling the RJD rally the next day".    
"Why did the PM not pay a visit to Bihar during floods last year when there was a Grand Alliance government?...PM visit to flood areas will nothing but a 'hawakhori' (pleasure trip)," Prasad said.
The RJD chief also sought to create a wedge between JD(U) and BJP coalition government in the state by saying that "Sushil Modi has claimed that the PM is coming to Bihar for flood on his request...Sushil Modi is trying to eclipse Chief Minister Nitish Kumar."
He also said that PM's visit was focused on holding discussions with Nitish Kumar and preparing a strategy to conduct the Assembly elections in many states like Rajasthan, Gujarat, Jharkhand, Bihar and Chattisgarh and Lok Sabha polls together in 2018.
Speaking on multi-crore Srijan scam, Lalu alleged that the investigating agency was trying for a cover up in the case to protect Nitish and Sushil Modi. Without naming JDU spokespersons, Neeraj Kumar, Ajay Alok and Sanjay Singh, Lalu called them alsatian dogs who were defending Nitish.
"2-3 alsatian dogs are speaking on the issue on behalf of the government. They are not the right persons to speak on the scam. 
Instead, Nitish Kumar should end his silence on the matter", said Lalu.
While Sonia Gandhi, Rahul Gandhi and Mayawati have pulled out of the rally, West Bengal Chief Minister Mamata Banerjee and rebel JD(U) leader Sharad Yadav would be present in the rally, Lalu said today.
In a dramatic development on July 26, Nitish Kumar resigned as chief minister dumping the RJD and Congress to stitch a new alliance with BJP and was sworn in as the CM for the sixth time the next day.His decision came after RJD made it clear that Tejashwi Yadav, booked by the CBI in a graft cases, will not resign as the deputy chief minister.