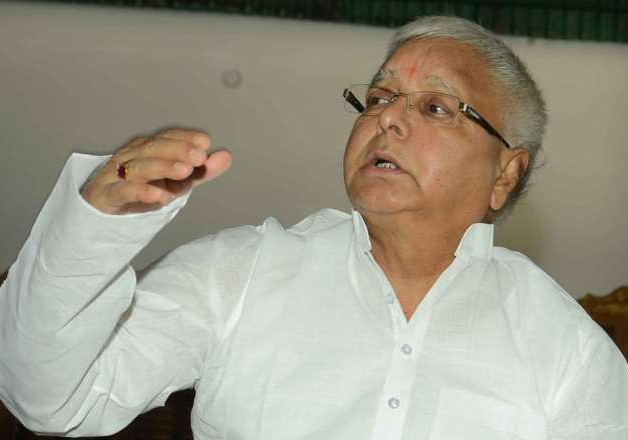 Rashtriya Janata Dal (RJD) supremo Lalu Prasad Yadav has dubbed the Prime Minister Narendra Modi's demonetization scheme as 'fargical strike' and demanded that the centre should put the list of capitalists who owed outstanding loans to the banks in public domain.
"Modi ji, you are talking about limited inconvenience for 50 days. Will every individual get Rs. 15 lakh each in his/her bank account after the completion of 50 days as promised by you," he said in a series of tweets.
"It would be considered as 'fargical strike' and 'fake encounter' of people if they do not get Rs. 15 lakhs in their accounts after doing all these exercises," the former Railway Minister said in an apparent reference to PM Modi's claim of bringing back black money stashed abroad and submit Rs. 15 lakhs each in bank accounts of people during the 2014 Lok Sabha elections.
The RJD chief's reaction came in response to the central government's decision to demonetise the high value currency notes of Rs. 500 and Rs. 1,000 on November 8 in order to wipe out and check black money, fake currency and corruption.
Yadav said that although he was opposed to black money, he found the lack of a visionary approach in implementation of the government's move.
"The government should have thought about people's convenience," he said.
Yadav asked the Modi government to explain the action being taken against "defaulters" who embezzled lakhs of crores from banks.
"Is it not a drama to protect such people (defaulters)," he asked.
Besides, Prasad said that people wanted to know from PM the list of capitalists, who owed outstanding loans to the banks and, also the stern measures taken by the government to realise dues from them.
Apart from inconveniences caused to common people by the government's decision, the former Union minister also wanted to know the loss of "man hours" and "production" due to people standing in long queues.
Raising a question mark on the government's decision to introduce Rs. 2,000, Prasad said that if the government really wanted to wipe out corruption and black money, then why did it introduce such a currency note.
"People have doubts on this issue," he added.
PTI