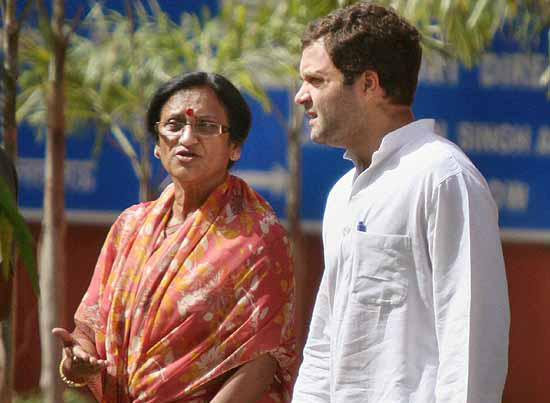 The Congress party which is trying to keep its head above the water in Uttar Pradesh ahead of next year's Assembly elections may face a major setback in the state with one of its senior most leaders tipped to leave the party. 
Rumours are rife that Rita Bahuguna Joshi, former president of Uttar Pradesh Congress committee and one of 23 party legislators in the state, is looking at prospects outside the grand old party and may join its bitter rival Bhartiya Janata Party soon. 
The 67-year-old MLA from Lucknow Cantonment led the Congress in the previous assembly election in 2012 which the party finished at the fourth position. Reports said that she is upset with the party for having projected an "outsider" like former Delhi Chief Minister Sheila Dikshit as the CM candidate and being sidelined by her new team. 
Rita is the daughter of former Chief Minister of undivided Uttar Pradesh Hemwati Nandan Bahuguna. Her brother Vijay Bahuguna, a former CM of Uttarakhand, recently led the rebellion in the state and ended up joining the BJP. 
At the time of rebellion in Uttarakhand when nine Congress MLAs sided with the BJP, Rita was tasked with dissuading her brother from siding with the opposition but failed. 
Considered close to the Nehru-Gandhi family, she fell out of favours from the Congress' first family after the incident. 
Rita started her political career with the Samajwadi Party and won the mayoral election of Allahabad on its ticket. After winning the election in 1995, she quit the SP and joined the Congress.
Joshi is a known and influential Brahmin face in UP, and her loss to the BJP would be quite a blow to Congress' plans which is trying to regain its original vote bank of upper caste Brahmins in the state. 
However, this is not the first time rumours of her quitting the Congress are doing the rounds. Earlier in May, her prompt visit to UP Chief Minister Akhilesh Yadav had triggered speculations that she was coming back to her parent party. 
However, the rumours were laid to rest as nothing happened in four months and she joined her party's campaign in the state.
There is no confirmation or denial from Joshi but her brother Vijay Bahuguna has said that these are "just rumours" and there are "no truths in them."