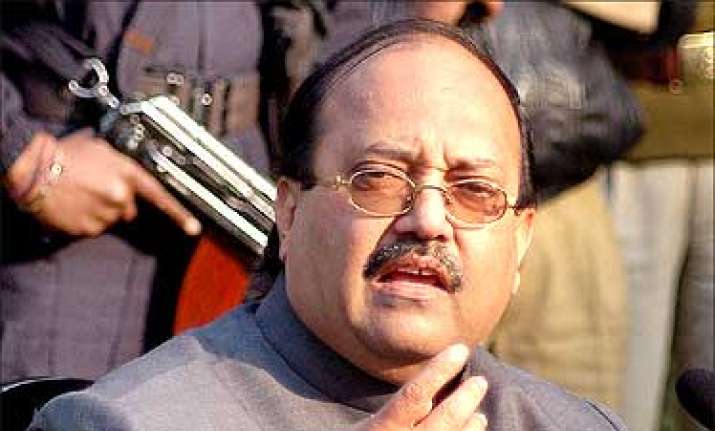 Unhappy over his diminished stature in the Samajwadi Party, Rajya Sabha MP Amar Singh has said that he is the declared 'zandu-balm' of his party.
"My stature in the party is zero. I want to say it clearly that I am the declared 'zandu-blam' of the party," Amar Singh told Navbharat Times in an exclusive interview. 
The once all-powerful leader of the Samajwadi Party, however, added that even Mulayam Singh's writ no longer runs in the party.
"Even Mulayam Singh's words are not being listened to in the party. I want to say it with deep regret that it's not that every order of Mulayam Singh is being obeyed in the party, as on today," he added.
When asked to comment on the reasons behind Akhilesh Yadav's unhappiness with him, Amar Singh said that he won't say anything against the UP CM because he is Mulayam Singh's son.
"I won't say anything on this as Mulayam Singh has called me his brother. So, Akhilesh is my brother's son. I can speak a lot against the Chief Minister because I don't fear him. But I won't say a word against the son of Mulayam Singh," Amar Singh said. 
Responding to a question on SP's alliance with Congress for the upcoming Assembly polls in the state, Amar Singh said that it could not be finalised as neither Akhilesh Yadav nor Ram Gopal Yadav were in its favour.
"Mulayam Singh is in favour of the alliance. However, Ram Gopal Yadav is not in its favour. Akhilesh Yadav also thinks that he has done so much of work in the state that all seats will fall into his kitty only. These are the reasons why the alliance could not take place," he added.
Amar Singh also praised Prime Minister Narendra Modi for his decision to demonetise high-denomination currency notes.
"I appreciate PM Modi from the core of my heart for his 'demonetisation' move. He has given everybody an opportunity to get rid of the black-money. He has promised not to say anything to anybody," Amar Singh said.
"People taunted him over black-money. They provoked him to bring out the black money. Now that you have awakened a sleeping lion, he will roar and eat whoever comes in front of him," he added.