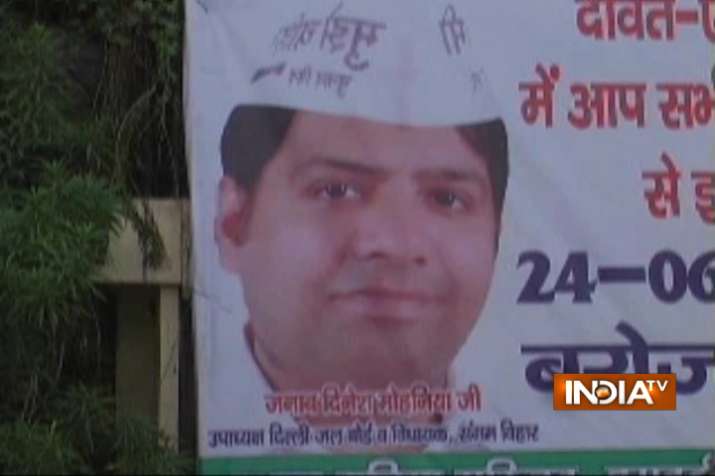 New Delhi: Delhi Police today arrested AAP MLA Dinesh Mohaniya on charges of sexual harassment on the complaint of a woman who visited his office-cum residence two days ago as part of a group to complain about irregular water supply.
Mohaniya, an MLA from Sangam Vihar constituency in south Delhi, was picked up by a team of Delhi Police while he was addressing a press conference at his residence in Sangam Vihar. He has also been booked for misbehaviour, manhandling and touching a woman inappropriately on the woman's complaint.
"We have arrested Mohaniya today (Saturday) on charges of manhandling, sexual harassment, inappropriately touching a woman and trying to disrobe her modesty when she visited his office-cum residence along with a group of women to complain about water supply problem," Deputy Commissioner of Police Ishwar Singh said.
Singh said that Mohaniya was taken to Neb Sarai Police station in south Delhi where a group of 10-12 women had registered a complaint against Mohaniya on Thursday.
"Initially we had filed charges against Mohaniya under section 323 (punishment for voluntarily causing hurt), 506 (punishment for criminal intimidation) and 509 (word, gesture or act intended to insult the modesty of a woman) of the IPC which was levelled by the group of women in their complaint on Thursday," the officer said.
Later, Singh said, the police added sections 354 A (making sexually coloured remarks or an offence of sexual harassment) and 354 B (act with intent to disrobe the modesty of a woman) of the IPC after two of the women independently gave their statement.
"Earlier we served two consequent notices to him (Mohaniya) on Friday evening and Saturday morning for joining police investigation following a complaint registered against him, which he refused to accept. We had to arrest him as he was not cooperating in the inquiry," the officer said.
The officer indicated the possibility of a few more arrests in the case.
On Friday a case was registered against Mohaniya, the vice chairman of Delhi Jal Board, for allegedly slapping a 60-year-old man in Tughlakabad area of south Delhi when he had gone to meet people distressed over the poor water supply in the area.
Delhi CM Arvind Kejriwal directly took on Prime Minister Narendra Modi, saying he has declared an "emergency like situation" in the national capital.
"Modi declares emergency in Delhi. Arresting, raiding, terrorizing, filing false cases against all those whom Delhi elected," Kejriwal tweeted.
"Dinesh Mohaniya arrested from his press conference in front of all TV cameras. What message does Modi want to give to everyone," the Aam Aadmi Party (AAP) leader questioned in another tweet.
"Dinesh Mohaniya is the same person who once exposed BJP leader Sher Singh Dagar through a sting. Dagar had tried to bribe him to join BJP, but Mohaniya exposed Dagar through a sting operation," AAP leader Raghav Chadha said.
"Today Dagar is free while Mohaniya has been arrested," he added.
AAP MLA Saurabh Bharadwaj said the BJP is making a mockery of the law.
"Can you imagine that an MLA in Delhi, of all the places, can disrobe a woman in front of hundreds of party workers? This is beyond my imagination. The allegation of molestation against Mohaniya is false and this is witch hunting by Modi government," he told a news channel.