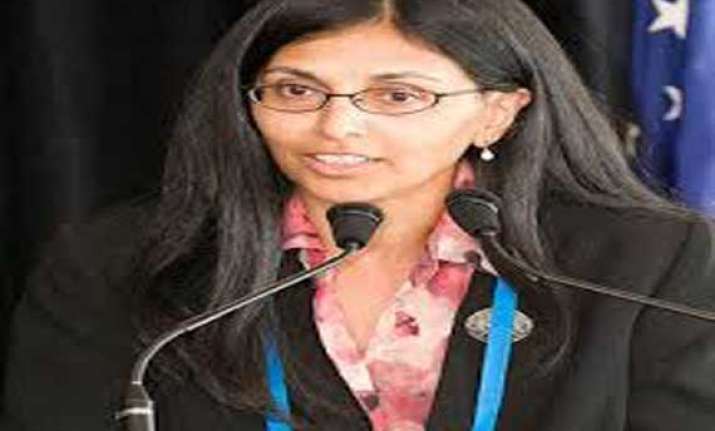 Washington: The US is dispatching Nisha Desai Biswal, its pointperson for South Asia, to build bridges with the new Indian government led by Prime Minister Narendra Modi, whom it had shunned for over a decade,
Biswal, the first Indian-American Assistant Secretary for South and Central Asian Affairs, will be in New Delhi June 6-9, making the first visit to India by a senior State Department official since India's national elections brought Modi to power. While in New Delhi, "she will meet with a range of officials in the new Government of India to review the full scope of bilateral and regional issues," the State department announced Friday. "
She will also meet with key strategic thinkers and business leaders" there, it said.
Biswal's travel announcement comes a day after US Secretary of State John Kerry called up the new Indian External Affairs Minister Sushma Swaraj to congratulate her and discuss "re-energising strategic" ties.
Kerry, according to Indian officials, "spoke about the economic agenda of the new Indian government and said the US was keen to boost bilateral trade to $500 billion from the current around $100 billion."
Since Modi led Bharatiya Janata Party's May 16 "resounding" victory in Indian elections, US officials have voiced a keenness to engage Modi in a spirit of letting bygones be bygones.
President Barack Obama himself moved quickly to call up Modi and extend an invitation to visit Washington when it became clear that he would be the new prime minister.
His call effectively ended the visa ban on Modi, whose US visa was revoked by the State Department in 2005 for his alleged complicity in the 2002 Gujarat riots.
Obama followed up his call with a message of congratulations the day Modi was sworn in with a pledge to work closely together with him "for years to come".
"We look forward to working closely together with the new government to continue to strengthen and expand the US-India strategic partnership for years to come," the White House said.