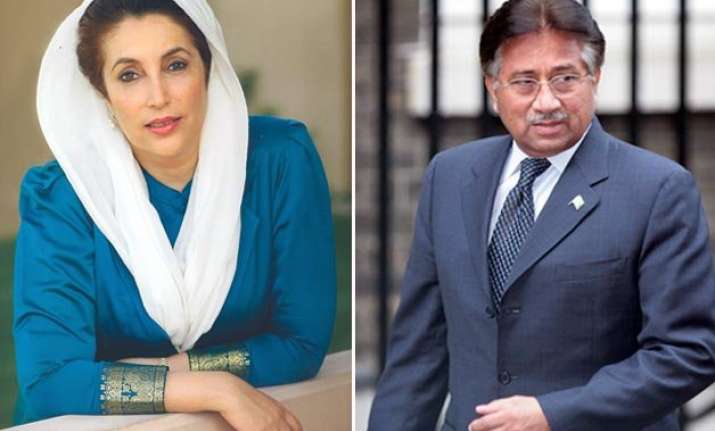 Islamabad: Former military dictator Pervez Musharraf had threatened slain ex-premier Benazir Bhutto before her return to Pakistan in 2007 from self-imposed exile, an American journalist has testified, a charge denied by the former president.
Bhutto, the former two-time prime minister, was killed in December 2007 in a bomb attack in Rawalpindi when Musharraf was president of the country.
The ex-general has been indicted as one of the accused in the case.
American journalist and lobbyist Mark Siegel in his testimony yesterday said that Musharraf called Benazir in his presence and threatened her if she returned to Pakistan.
According to local media, Siegel said in his statement that just days before her return from a self-imposed exile in October 2007, Musharraf called Benazir in the US.
Express News TV reported that Musharraf rejected the charges of making any such call and said he never used a mobile phone at that time.
Musharraf said he could "clearly see the conspiracy" behind the accusations, adding that he started using a mobile phone in April 2009, almost two years after Benazir was killed.
He regretted what he said the "false" accusations made by the American journalist.
Siegel recorded his statement before anti-terrorism court in Rawalpindi through a video link from the Pakistan Embassy in Washington.
His testimony is considered as important to conclude the trial of case which has been going for years.
Musharraf ruled Pakistan from 1999 to 2008.
He faces several cases and lives in Karachi. He is not allowed to leave the country.