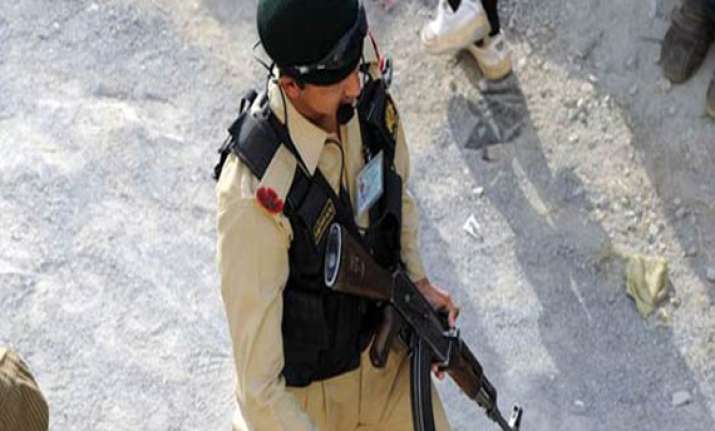 Islamabad, Jan 27: In a daring attack, militants today fired rockets at the prestigious Pakistan Military Academy, breaching its outer wall near the Abbottabad compound where Osama bin Laden was killed last year, hours after army chief Gen Ashfaq Parvez Kayani attended a meeting there. 

Nine rockets were fired at the Kakul Academy, the equivalent of British Sandhurst, from behind a mosque in the mountains overlooking the garrison town, officials said. 

Two of the projectiles hit the outer wall of the academy, breaching it at places, but there were no reports of causalities or damage in the strike that was carried out at predawn, local police officials said.

This was the first such attack in Abbottabad which is close to Pakistani capital Islamabad and where US Navy SEALS struck last year in a covert raid killing the al-Qaeda chief. 

Acknowledging that the attack amounted to a major security breach, officials said no arrests had been made so far and security forces have launched a search operation. 

The incident happened hours after army chief Gen Kayani visited Abbottabad to attend a commanding officers' conference, officials said.

The rockets were fired from a mountain behind the Ilyasi mosque in Nawan Sher, a town near Abbottabad, district administration chief Imtiaz Hussain Shah told the media.  Police had found nine rocket launch pads behind the mosque.

"A total of nine rockets were fired. About three went towards the PMA and two of them hit the boundary wall," Shah said.

"Three to four rockets hit residential areas (of Abbottabad) but there was no damage there too," he said, adding no one had seen the persons who fired the rockets.

"A search operation has been launched by the police and army but no arrest has been made so far," Shah said.  Though Abbottabad has an extensive security system and check points, the place used to fire the rockets was accessible from all sides and had mountains behind it, he added.

No group claimed responsibility for the incident but officials said they believed militants were behind the brazen attack.

"It is the work of terrorists," Shah said.

The PMA is located near a compound where Osama bin Laden lived for at least five years.