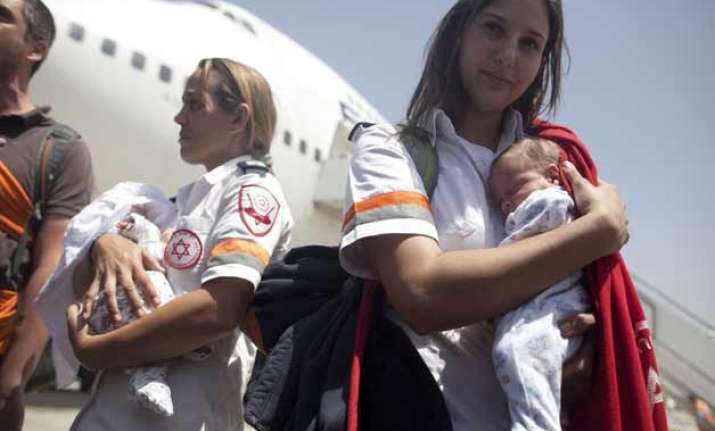 Several homosexual couples of Israel, on Tuesday, flew to the quake-hit country Nepal and brought back their newborns which they had from surrogate women in Nepal. However, none of the surrogate mothers coping with the earthquake's aftermath were allowed to travel and were hence left by these couples in Nepal.
Israel got around 26 newborns back to its country showing no sympathy to their mothers. Some of the babies were with their Israeli parents and others were cared for by Israeli passengers.
Gay Israeli couples that can afford overseas surrogacy have increasingly turned to Nepal for children. The Israeli government forbids same-sex couples from adopting or turning to surrogacy within Israel.
Israel's Attorney General Yehuda Weinstein said on Monday that he would give permission only for the most heavily pregnant ( in the last stages of pregnancy) to be flown to Israel to give birth.
ALSO READ: Around 50,000 pregnant women affected from quake in Nepal: UN
The Interior Minister Gilad Erdan said, "We have decided to hold off on all the procedures, even if it causes a problem with the Nepalese or Indian governments, so as to bring over the babies as soon as possible."
The move has sparked outrage even in Israel and was widely condemned by the Israeli media.
Earlier, Israeli couples frequently visited India due to the cheap surrogacy costs and better medical facilities however, since the change in law here which allowed only the heterosexual couples to have surrogate babies, the Israelis started moving towards Nepal.
Nepal also does not encourage the Nepalese women to provide their wombs for surrogacy however; it allows the practice in its border areas.
A report in Time Magazine suggests that a further 100 women, some Nepalese and some Indian, are still carrying babies for Israelis however, are stranded amidst the earthquake devastation.