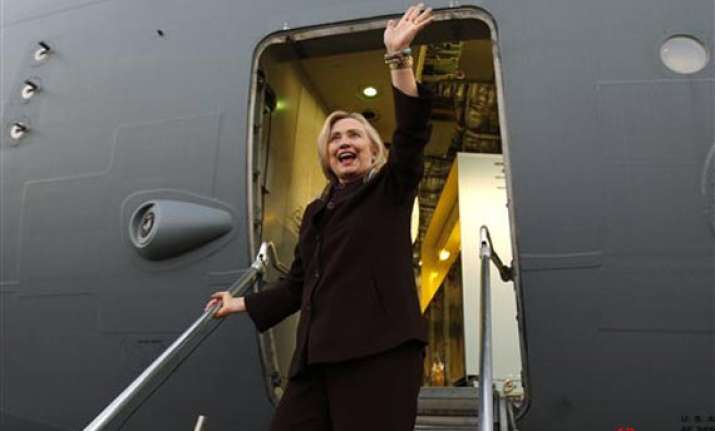 Islamabad, Oct 20 : US Secretary of State Hillary Clinton will arrive in the Pakistani capital on Thursday for talks aimed at pressing the country's leadership to crack down on the Haqqani network to facilitate the process of reconciliation in neighbouring Afghanistan. 

Clinton, who is expected to be accompanied by CIA chief Gen David Petraeus and Joint Chiefs of Staff chairman Gen Martin Dempsey, will hold meetings with Pakistan's civil and military leadership, including President Asif Ali Zardari, Prime Minister Yousuf Raza Gilani and army chief Gen Ashfaq Parvez Kayani, diplomatic sources said. 

The trip comes at a time when US-Pakistan relations have plunged to a new low following accusations by senior American officials that the Inter-Services Intelligence agency is using the Haqqani network to wage a proxy war in Afghanistan and to attack US and foreign forces.

Against the backdrop of a reported US and Afghan troop build-up along the Afghanistan-Pakistan border, Gen Kayani warned the US against any unilateral action in the tribal belt that is considered a safe haven for the Haqqani network and other militant groups.

Kayani told members of two parliamentary panels during a briefing yesterday that Pakistan was a nuclear power that could not be compared to Iraq or Afghanistan.  The US would "have to think ten times" before taking any unilateral action within Pakistan, he was quoted as saying.  Clinton arrived in Kabul today on an unannounced visit to bolster the flagging reconciliation process with the Afghan Taliban as the US administration presses on with its plans to withdraw troops.

She flew into the Afghan capital late today and will hold talks with President Hamid Karzai and other leaders tomorrow.  Her trip to Islamabad was kept under wraps due to security concerns, diplomatic sources said.  The US plans to withdraw most of its forces from Afghanistan by 2015.

It intends to pull out the 33,000 additional troops that President Barack Obama sent to Afghanistan in late 2009 by the end of next year.

US officials have said they expect Pakistan to play a key role in facilitating the troop drawdown and reconciliation process.

However, US-Pakistan ties have been rocky since the beginning of the year, when CIA contractor Raymond Davis was arrested in Lahore for killing two men.

Bilateral tensions were further exacerbated by the unilateral US military raid that killed Osama bin Laden in Abbottabad in May.

Since then, the US has suspended all military aid to Pakistan and demanded that the ISI cut its links with the Haqqani network.

The Obama administration has demanded military action against the Haqqanis in North Waziristan but Gen Kayani has said the US should focus on stabilising Afghanistan instead ofpressuring Pakistan to launch anti-militancy campaigns.