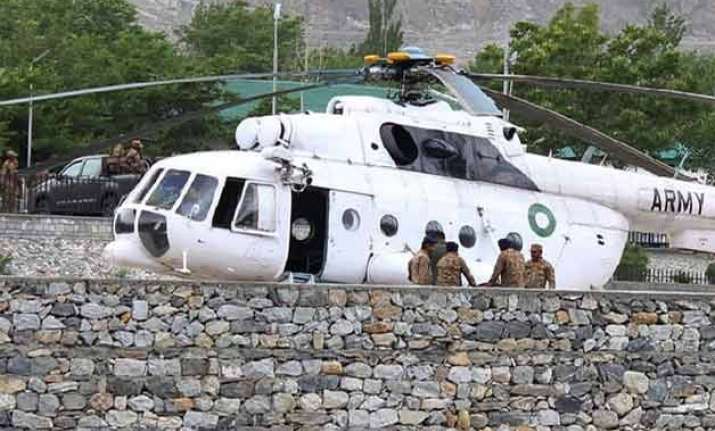 Islamabad:  Delegations from the Philippines, Malaysia, Indonesia and Norway today reached Pakistan to take back the bodies of their nationals, including two ambassadors, killed in an army helicopter crash in the PoK.  
A forensic team from Norway also arrived in the capital on the request of the Pakistan government to assist in DNA sampling, the foreign office said.
The team was accompanied by Norwegian delegation which is here to receive its ambassador's body.  
Envoys of the Philippines and Norway and the wives of the Malaysian and Indonesian ambassadors were among seven persons killed when Mi-17 helicopter, carrying 12 foreigners, crashed in Pakistan-occupied Kashmir's Gilgit-Baltistan area in the north on May 8.
Two army pilots and a Pakistani crew member were also killed in the crash.
According to Foreign Office spokesperson, a seven-member delegation from the Philippines, five-member from Indonesia, three from Malaysia and five-member delegation from Norway reached Islamabad today.
The delegation from the Philippines included the spouse and son of the late ambassador while the Malaysian delegation included the daughter of the envoy.
"Transportation of the mortal remains to the respective countries of the deceased would be finalised after consultation with the families and officials of the embassies concerned and after completion of all formalities," the foreign office said.
The bodies of Norwegian Ambassador Leif Larsen, Philippine Ambassador Domingo D Lucenario Jr, and the wives of the ambassadors of Malaysia and Indonesia have been kept in the morgue of Combined Military Hospital (CMH) Rawalpindi.  
The ambassadors of Indonesia and the Netherlands, who received burn injuries, have been moved to Special Burns Unit in Kharian in Punjab while the Malaysian envoy and the ambassador of Poland and his wife are being treated at a local hospital.
Diplomats from about 30 countries along with their families were going to Naltar on a three-day outing in three helicopters when one of the aircraft made crash landing shortly before landing.
The Taliban had claimed responsibility for the downing of the chopper and said premier Nawaz Sharif was their target.  Pakistan Army, however, ruled out the possibility of any terrorist or subversive activity in the crash and said the chopper crashed due to a technical fault while landing.