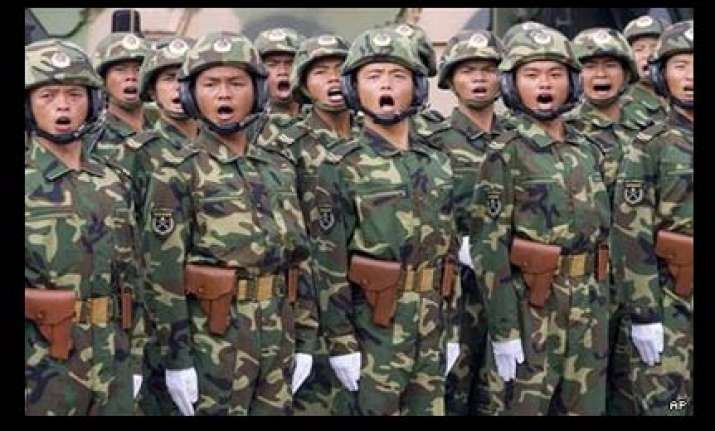 The buildup of Chinese armed forces is continuing "unabated" and Beijing's goals appears to be power projection beyond Asia and to challenge America's freedom of action in the region, a top US Admiral has said.
Outlining that Chinese buildup was affecting regional military balance, Admiral Robert Willard, Commander of the US Pacific Command said, "China's rapid and comprehensive transformation of its armed forces holds implications beyond the Asia-Pacific region".
The Admiral's comments came in a testimony to the Congress armed services committee and raised concerns that whether Beijing harboured global military ambitions.
"Of particular concern is that elements of China's military modernisation appear designed to challenge our freedom of action in the region," Willard said.
Elaborating, the top American Admiral said China had augmented its submarine and air defence fleet, which was now the dominant presence in crucial Asian waters in South China Sea, East China Sea and the Yellow Sea and these forces constituted "anti-denial and anti-access" capability against the American and regional forces.
'The PLA Navy has increased its patrols throughout the region and has shown an increased willingness to confront regional nations on the high seas and within the contested island chains.
Additionally, China lays claim to the Senkakus, administered by Japan, and contests areas on its border with India," Willard said.
The US armed forces officials also told the Congressional committee that over the past several years, Beijing had begun a new phase of military development by beginning to articulate roles and missions for the PLA that go beyond China s immediate territorial concerns, but has left unclear to the international community the purposes and objectives of the PLA s evolving doctrine and capabilities.
In his opening remarks, Senator Carl Levin, Chairman of Senate Armed Services Committee said as China's influence and military grow, traditional alliances and partnerships in the region may come under pressure from a perception that the balance of power is shifting. And other countries in the region may deem it necessary to grow their militaries as well.
Such developments need to be understood and inform our decision making. China's growing involvement with Iran, including investment in the Iranian energy sector, is an example of China's global influence expansion efforts,  he said.  
"China is the primary obstacle to more stringent United Nations Security Council sanctions against Iran,  Levin said.
Another powerful Sen Joseph Lieberman said his impression is that over the last year or so there seems to have been a move up in the assertiveness of China economically, diplomatically and militarily.
To these probing queries by the influential senators, Willard said the Chinese buildup ranged from integrated air defence systems off their coastline, which stand off well beyond their territorial waters and air space, to their investments in submarines, which is pretty profound.
That particular capability now that is ranging throughout the South China Sea, East China Sea and Yellow Sea and beyond, and other capabilities that together provide sizable area denial capability, he said.
 "Over time they have very much appeared to zero in on US capabilities and a potential ability to counter those, as a framework for these investments. But I would offer that they not only concern the United States but our regional allies as well.
As you suggest, Japan, the Republic of Korea, our allies in Southeast Asia, the Philippines and Thailand, and our partners in Vietnam and elsewhere in the region, all have to deal now with capabilities that could potentially infringe on their freedom of action throughout this very important part of the world," he said.
The US commander also said that American military and government networks and computer systems continue to be the target of intrusions that appear to have originated from within China. PTI