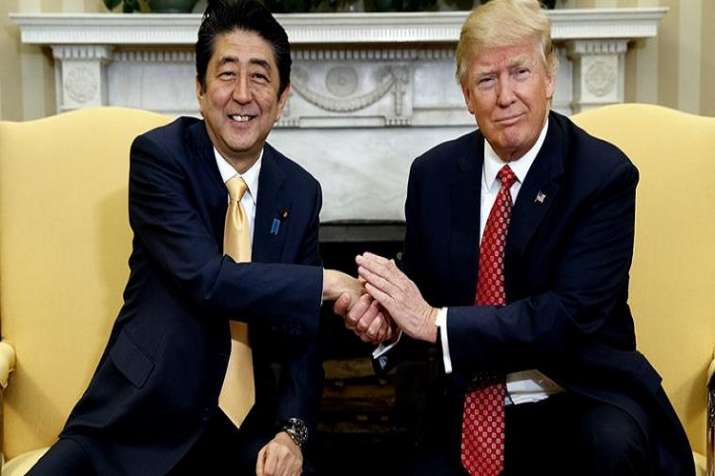 US President Donald Trump and Japanese Prime Minister Shinzo Abe agreed on Monday that it is 'imperative' to completely 'dismantle North Korea's nuclear weapons and ballistic missile program.
In a statement, the White House said, " Trump and Abe affirmed the shared imperative of achieving the complete and permanent dismantlement of North Korea's nuclear, chemical, and biological weapons and ballistic missile programs."
The White House added that the US and Japanese leaders will meet ahead of a much-anticipated summit with North Korea's Kim Jong Un back on schedule for June 12 in Singapore.
The meeting assumes significance as it acts as a prelude to the much anticipated June 12 summit between Trump and North Korean leader Kim Jong Un. Trump pulled out of the meeting Kim Jong Un last week, but then said a day later that it could get back on track.
On Sunday, the U.S. State Department said U.S. and North Korean officials had met at Panmunjom, a village in the Demilitarized Zone (DMZ) that runs along the heavily armed border between North and South Korea. "A pre-advance team of U.S. officials has also travelled to Singapore to meet with North Koreans there", the White House said. While both Trump and Kim have appeared eager to hold the summit, the two sides have remained to differ on the key issue of denuclearisation, with North Korea rejecting U.S. demands for it to unilaterally abandon a nuclear weapons program that now threatens the United States.
The White House gave no details as to when the Trump-Abe meeting might take place, but both leaders are due to attend the G7 meeting starting from June 8 in Canada.
Earlier on Sunday, Trump and Abe in a telephonic conversation discussed recent developments in North Korea and confirmed that they would meet again to ensure close coordination in the progress of the US-North Korea summit.
Washington wants North Korea to quickly give up all its nuclear weapons in a verifiable way in return for sanctions and economic relief. 
Pyongyang has a different view of denuclearisation and remains deeply worried that abandoning its deterrent would leave the country and its leader vulnerable, especially while the United States maintains a robust military presence in South Korea.