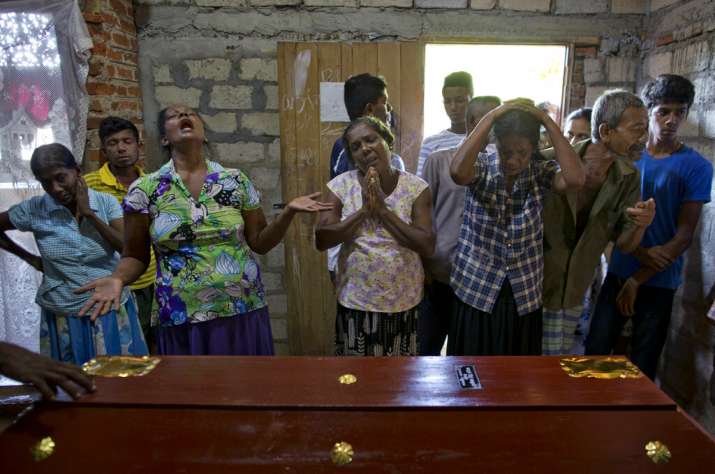 A Sri Lankan government official said that a local militant group named National Thowfeek Jamaath is responsible for the Easter Sunday suicide bombings that killed nearly 300 people.
"All of the bombers were Sri Lankan citizens, but authorities suspect foreign links," AP quoted Health Minister Rajitha Senaratne as saying.
Earlier, Ariyananda Welianga, a government forensic crime investigator, said an analysis of the attackers' body parts made clear that they were suicide bombers. He said most of the attacks were carried out by a single bomber, with two at Colombo's Shangri-La Hotel.
The bombing was Sri Lanka's deadliest violence since a devastating civil war ended a decade ago on the island nation, killed at least 290 people with more than 500 wounded, Police spokesman Ruwan Gunasekara said Monday.
Meanwhile, Sri Lankan police investigating the bombings are examining reports that intelligence agencies had warnings of possible attacks, officials said Monday.
Telecommunications Minister Harin Fernando tweeted, "Some intelligence officers were aware of this incidence. Therefore there was a delay in action. Serious action needs to be taken as to why this warning was ignored." He said his father had heard of the possibility of an attack as well and had warned him not to enter popular churches.
Mano Ganeshan, the minister for national integration, said his ministry's security officers had been warned by their division about the possibility that two suicide bombers would target politicians.
"The police's Criminal Investigation Department, which is handling the investigation into the blasts, will look into those reports", AP quoted Gunasekara as saying.
Cardinal Malcolm Ranjith, the archbishop of Colombo, said the attacks could have been thwarted.
"We placed our hands on our heads when we came to know that these deaths could have been avoided. Why this was not prevented?" he said.
Earlier, President Maithripala Sirisena appointed a three-member committee headed by an apex court judge to probe the country's deadliest terror attack and submit a report within two weeks, according to media reports.
Supreme Court judge Vijith Malalgoda, former IGP N K Ilangakoon and Former Law & Order Ministry Secretary Padamasiri Jayamanne have been appointed as members of the committee, SundayTimes reported. The committee has been instructed to submit the probe report on the explosion within two weeks to the President, the report said.
Sirisena, who was on a private visit to India and Singapore, returned to Colombo on Monday.
Eight coordinated explosions targeted Easter worshippers and high end hotels popular with international guests.
The blasts targeted St Anthony's Church in Colombo, St Sebastian's Church in the western coastal town of Negombo and another church in the eastern town of Batticaloa as the Easter Sunday mass were in progress.
Three explosions were reported from the five-star hotels - the Shangri-La, the Cinnamon Grand and the Kingsbury. Foreigners and locals who were injured in hotel blasts were admitted to the Colombo General Hospital.
According to the Government Analysts Department, a total of seven suicide bombers carried out the devastating blasts killed 290 people and injured 500 others.
Sri Lanka will enforce a state of emergency from midnight Monday in the wake of the deadly Easter blasts. The decision was made during a meeting of the National Security Council (NSC) chaired by President Sirisena.
(With inputs from agencies)