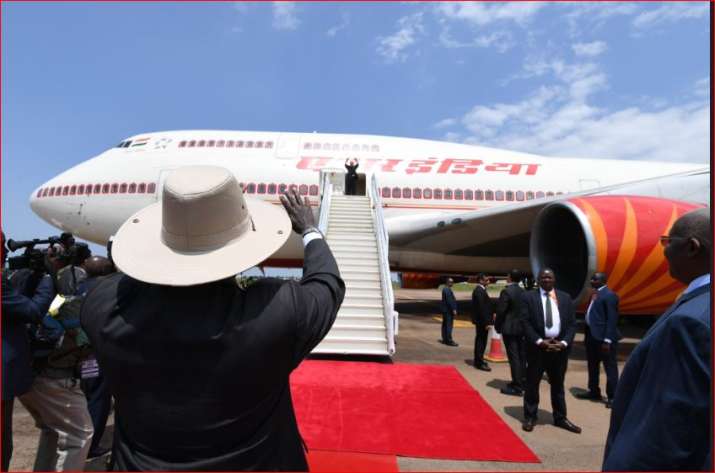 Prime Minister Narendra Modi on Wednesday wrapped up his two-day visit to Uganda where he held wide-ranging talks with President Yoweri Museveni and discussed ways to strengthen the bilateral ties.
The Prime Minister has left for South Africa to participate in the BRICS Summit, whose theme this year is 'BRICS in Africa'.
He will attend the 10th edition of the BRICS Summit in Johannesburg during which the grouping's leaders are expected to deliberate on global hot-spot issues, international peace and security, global governance and trade issues among others.
BRICS is a grouping of five major emerging economies: Brazil, Russia, India, China and South Africa. Originally the first four were grouped as "BRIC", before the induction of South Africa in 2010.
PM Modi had arrived Uganda's capital Kampala on Tuesday evening - the first bilateral tour by an Indian prime minister since 1997.
The Prime Minister addressed the country's Parliament and announced that India will strengthen its cooperation and mutual capabilities with Africa in combating terrorism and extremism.
"In another special gesture reflecting the warmth and bonding between our two countries, Ugandan President Museveni came to the airport to see-off PM Narendra Modi. PM concludes his historic visit and takes off for the final leg of his 3-nation trip to S Africa," Ministry of External Affairs Spokesperson Raveesh Kumar said in a tweet.
"My visit to Uganda has been productive. I express gratitude towards President Kaguta Museveni and the people of Uganda for their kindness through the visit. This visit will lead to further cementing of bilateral relations, particularly giving a strong impetus to economic ties," Modi said in a tweet.
India extended two lines of credit worth nearly USD 200 million to Uganda in energy infrastructure, agriculture and dairy sectors yesterday.
Modi also announced that India would build a Gandhi Heritage Centre at the sacred site in Uganda's Jinja, where a statue of Mahatma Gandhi now stands.
My visit to Uganda has been productive. I express gratitude towards President @KagutaMuseveni and the people of Uganda for their kindness through the visit. This visit will lead to further cementing of bilateral relations, particularly giving a strong impetus to economic ties.

— Narendra Modi (@narendramodi) July 25, 2018
In another special gesture reflecting the warmth and bonding between our two countries, Ugandan President Museveni came to the airport to see-off PM @narendramodi. PM concludes his historic visit and takes off for the final leg of his 3-nation trip to S. Africa pic.twitter.com/mgGmLw9AfU

— Raveesh Kumar (@MEAIndia) July 25, 2018
(With PTI inputs)