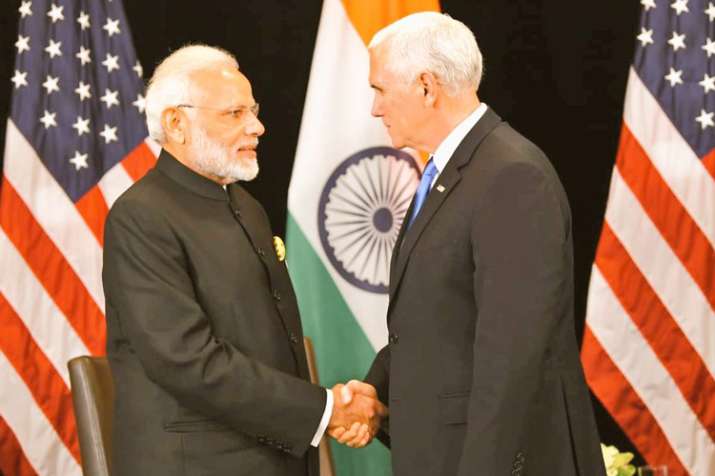 Prime Minister Narendra Modi met US Vice President Mike Pence in Singapore on Wednesday on the sidelines of the East Asia Summit and the two leaders discussed bilateral ties, including defence cooperation and the need for maintaining a free and open Indo-Pacific.
The discussions between PM Modi and US Vice-President Pence touched both upon bilateral relations and regional and international issues. Vice President Pence acknowledged that India had made progress economically. He felt India is a positive factor in regional and international relations.
PM Modi stressed that there was a great opportunity for USA in India in making defence equipment and setting up defence industry in India. The issue of terrorism was also discussed during the meeting. "US VP Pence appreciated cooperation between US and India on counter terrorism," a statement issued by the Ministry of External Affairs said.
Prosperity through partnership

PM @narendramodi had a warm meeting with @VP of United States Michael Pence in #Singapore. Productive discussion on all aspects of global strategic partnership based on growing convergence of interests on regional and global issues. pic.twitter.com/M1vtAVQhsd

— Raveesh Kumar (@MEAIndia) November 14, 2018
PM Modi on 2-day Singapore visit
PM Modi is on a two-day visit to Singapore where he will also attend the East Asia Summit, an ASEAN-India informal meet, the Regional Comprehensive Economic Partnership summit.
Pence will be representing President Donald Trump at the ASEAN and East Asia Summit in Singapore.
PM Modi will also attend the 13th East Asia Summit (EAS) and Regional Comprehensive Economic Partnership (RCEP) Summit hosted by Singapore as the current Chair of ASEAN grouping.
As strategic partners, India and ASEAN enjoy close trade and economic relations. 
Trade between India and ASEAN stood at USD 81.33 billion in 2017-18 and constitutes 10.58 per cent of India's total trade. Exports to ASEAN countries constitute 11.28 per cent of India's total exports. 
India and the US have explored ways to further deepen operational cooperation in the resource-rich Indo-Pacific region where China has been trying to spread its influence.
China is 'coercing' its neighbours to reorder the Indo-Pacific region to its advantage as Beijing flexes its muscles in the East and South China Seas. 
India, the US and several other world powers have been talking about the need to ensure a free, open and thriving Indo-Pacific in the backdrop of China's rising military manoeuvering in the region.
(With inputs from PTI)