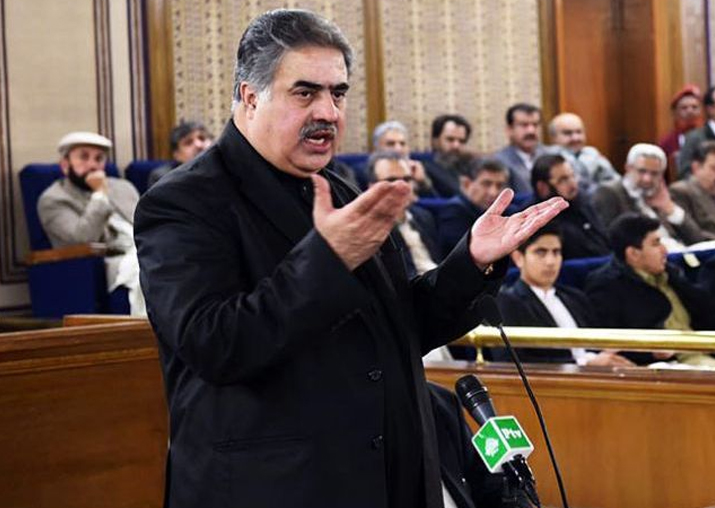 Pakistan's Balochistan Chief Minister Sanaullah Zehri today resigned from his post ahead of a no-confidence motion against him in the provincial assembly, amid speculation of 'horse trading'. Balochistan Governor Muhammad Khan Achakzai has accepted the resignation. 
The Opposition had announced that they would not withdraw the no-confidence motion moved against the chief minister belonging to the ruling Pakistan Muslim League-Nawaz (PML-N) government. 
The party was left embarrassed as Zehri had to resign due to opposition by his own party men. The no-confidence motion was openly supported by several lawmakers from the PML-N. 
The Assembly was likely to witness a stormy session which was convened to discuss the no-confidence motion against Zehri filed by the treasury benches, levelling serious allegations. 
The government and the Opposition both had claimed that they have the support of the majority of leaders. 
Zehri agreed to step down after Prime Minister Shahid Khaqan Abbasi yesterday visited Quetta but failed to win support of renegade lawmakers for him. 
"Consequent upon the resignation of the Chief Minister of Balochistan, the provincial ministers and advisors to the Chief Minister of Balochistan, shall also cease to hold their offices with immediate effect," according to a notification by the Balochistan government. 
Zehri, after stepping down, said that he was not in the habit of hanging onto power. 
It is believed that the new chief minister will also be someone from the PML-N but the change shows that the local lawmakers were taking decisions on their own by ignoring the leadership in Islamabad. 
It is important as elections of the Senate are scheduled to be held in March and the Balochistan assembly will elect 11 senators. 
The show of power by the PML-N members of the Assembly means that they may not listen to the central leadership while electing senators. 
Former provincial minister Sarfraz Bugti took to the social media to confirm the news. 
"Alhumdulillah! CM #Balochistan resigned," he tweeted. 
In a telephonic conversation, Abbasi told Zehri that there was no need to put in efforts for saving the PML-N government in the province when the party members were not onboard, The Express Tribune reported. 
In order to avoid divisions within the party ranks and imminent 'horse-trading' in the provincial assembly, he should leave the post before the no-confidence motion, said Abbasi. 
"That is in the party's interest," he said. 
Meanwhile, Zehri's spokesperson Jan Achakzai claimed that the prime minister had not advised him to resign, the report added.