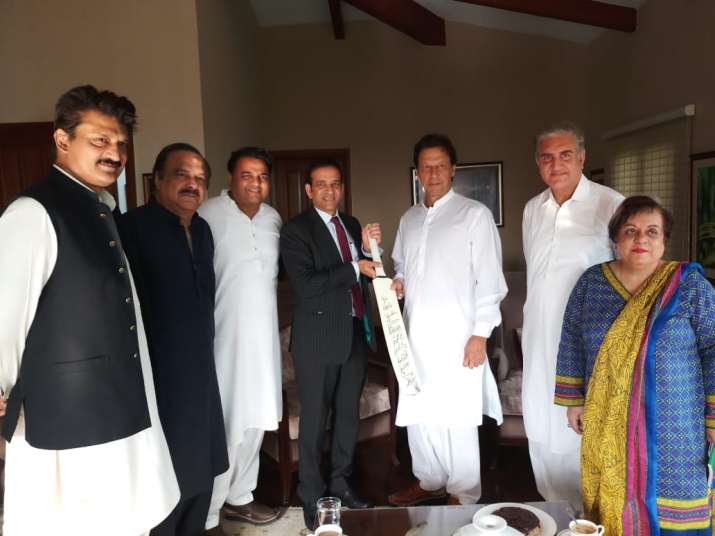 Cricketer-turned-politician Imran Khan will take oath as the Prime Minister of Pakistan on August 18, according to Pak media.
Imran Khan's Pakistan Tehreek-e-Insaf (PTI) emerged as the single largest party in the recently held general elections in the country
"Imran Khan to take oath as Prime Minister of Islamic Republic of Pakistan on the 18th Aug 2018 inshALLAH, " PTI leader Senator Faisal Javed Khan tweeted on Friday. 
Faisal Javed Khan, PTI's  Central Additional Information Secretary, also  said that Indian cricket legends Sunil Gavaskar, Kapil Dev, Navjot Singh Sidhu have been invited to prime minister-in-waiting Khan's oath-taking ceremony.
The 1992 World Cup-winning cricket team has also been invited to witness their captain take oath, Javed told DawnNewsTV.
According to Pak media, inaugural session of the newly elected National Assembly will be held on August 13. The newly elected members would first take oath as the member of the National Assembly after which they would elect the Prime Minister of the country.
With 116 seats, Imran Khan's PTI is the single largest party in the 272-member National Assembly. 
Meanwhile, Indian High Commissioner to Pakistan Ajay Bisaria on Friday called on the Pakistan PM-designate, congratulated him  on his electoral success and discussed the prospects of Indo-Pak relations. The High Commissioner also gifted a cricket bat, autographed by the entire Indian cricket team, to Imran Khan.
Indian High Commissioner to Pakistan Ajay Bisaria met Pakistan's PM designate Imran Khan. pic.twitter.com/1StCZhXQbs

— ANI (@ANI) August 10, 2018