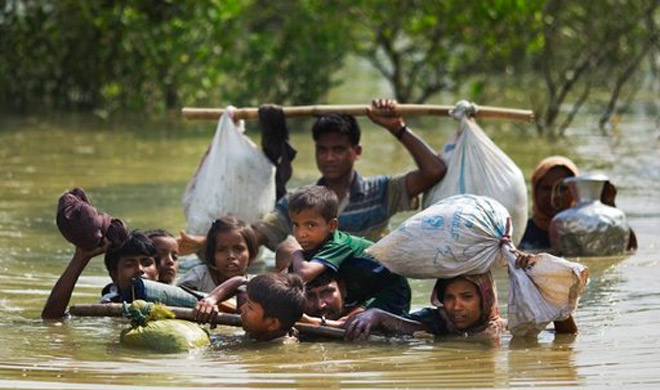 UN Secretary-General Antonio Guterres wants Rohingya refugees helped "regardless of politics," his spokesperson Stephane Dujarric said Tuesday in reply to a question about India's policy on those fleeing Myanmar.
Dujarric said that the reports about Rohingya's plight and pictures of them fleeing were heart-rending and these are very vulnerable people and deserved to be helped.
"I deplore current measures in India to deport Rohingyas at a time of such violence against them in their country," Dujarric said in Geneva on Monday.
"By virtue of customary law, its ratification of the International Covenant on Civil and Political Rights, the obligations of due process and the universal principle of non-refoulement, India cannot carry out collective expulsions, or return people to a place where they risk torture or other serious violations," he said.
His remarks came after India had taken strong exception to UN High Commissioner for Human Rights Zeid Ra'ad Al Hussein's criticism of India for wanting to deport Rohingya refugees.
India's Permanent Representative to the UN in Geneva, Rajiv K. Chander, called the remarks "tendentious" and based on inaccurate reports.
"Like many other nations, India is concerned about illegal migrants, in particular, with the possibility that they could pose security challenges. Enforcing the laws should not be mistaken for lack of compassion," he said in a statement.
Zeid, in his comments at the 36th Session of the UN Human Rights Council yesterday, had also criticised India on the issue "religious intolerance" and "threat to rights activists".
In a strong reaction, India said it was surprised that individual incidents are being "extrapolated" to suggest a broader societal situation.
"We are perplexed at some of the observations made by the High Commissioner in his oral update. There appears to be inadequate appreciation of the freedoms and rights that are guaranteed and practised daily in a vibrant democracy that has been built under challenging conditions," Ambassador Chander said.
Rejecting the observations by Hussein, Chander said, "Tendentious judgements made on the basis of selective and even inaccurate reports do not further the understanding of human rights in any society."
Dujarric said that the UN Office for the Coordination of Humanitarian Affairs (OCHA) has estimated that 370,000 Rohingya refugees have fled into Bangladesh since August 25.
In response to Bangladesh's request for help, he said an aircraft chartered by the UN Refugee Agency (UNHCR) and another donated by the United Arab Emirates have landed in Bangladesh with emergency aid for Rohingya refugees.
The supplies brought in by them will help 25,000 refugees, and more flights are planned to aid a total of 120,000 refugees, he added.
The OCHA was concerned about reports of continued violence, fires, and displacement of tens of thousands of people in Rathedaung Township in Rakhine State, Dujarric said.
Aid programmes for the Rohingya by the UN agencies and international NGOs in northern Rakhine have either been suspended or severely interrupted, but some help is being delivered by the government and through the Red Cross, he added.