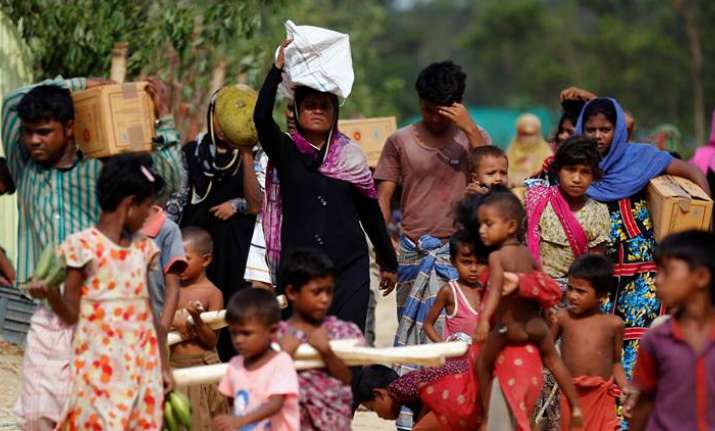 Strongly reacting to United Nation's criticism of its handling of Rohingya Muslims as well as the alleged human rights violations, Syed Akbaruddin, India's Permanent Representative to the UN, on Tuesday said that "enforcing laws should not be mistaken for lack of compassion".
Akbaruddin said that New Delhi was concerned about the matter concerning illegal immigrants, who could be a challenge to its security.
"Assessments of human rights should not be a matter of political convenience. We believe achieving human rights goals calls for objective consideration, balanced judgements, and verification of facts," he was quoted as saying by news agency ANI.
India's reaction comes a day after the UN Human Rights Commission (UNHRC) reprimanded India for its bid to deport around 40,000 Rohingyas who have taken shelter in the country. A top UN human rights official said that India cannot carry out collective expulsions or return people to a place where they risk torture. 
"I deplore current measures in India to deport Rohingyas at a time of such violence against them in their country," UN High Commissioner for Human Rights Zeid Ra'ad al-Hussein said while addressing the United Nations Human Rights Council.
The statement comes amid reports that the government plans to deport thousands of Rohingyas who have fled violence in Myanmar. 
Some 40,000 Rohingyas have settled in India and 16,000 of them have received refugee documentation, he said.
Some 370,000 Rohingya have fled Myanmar and entered Bangladesh since an upsurge in violence late last month, the United Nations said today.
"An estimated 370,000 Rohingya have entered Bangladesh after fleeing violence in Myanmar's Rakhine state since August 25," Joseph Tripura, a spokesman for the UN refugee agency, told AFP.
On the issue of Kashmir, India said that it was a matter of regret that the matter of terrorism was overlooked in the UNHRC report. 
"Issue of human rights situations in J&K raised. Matter of regret that central role of terrorism being overlooked," said Akbaruddin.
"I regret the reluctance of both India and Pakistan to engage with my Office on the human rights concerns I have raised in recent months," the UNHRC had said yesterday on the Kashmir issue.