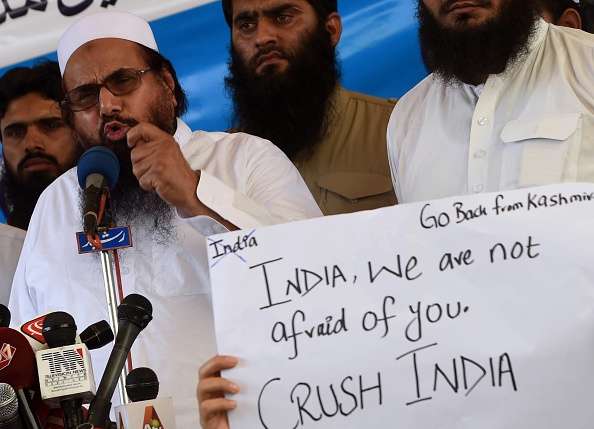 In another sign of the influence terrorists believe they wield on the government in Pakistan, Islamabad has received a word of advice from Jamaat-ud-Dawah chief and the 2008 Mumbai terror attack mastermind Hafiz Saeed.
Saeed has asked the Pakistani government to refrain from forging a friendship with India with a claim that its forces are committing atrocities in Kashmir.
He also alleged that the BJP government is trying to change the demographic status in Kashmir.
"We are standing with Kashmiris and completely support freedom movement of Kashmir," he said and criticised the Indian Army for committing atrocities in Kashmir.
He has urged the Pakistani government to solve problems of Kashmiris.
"The Pakistani government should not look towards India's friendship. Blood is being shed in Kashmir. Therefore, it is Pakistani government's responsibility to solve their problems," he said.
Interestingly, the narrative of the terrorist bears a canny similarity with that of Islamabad. After India's surgical strikes and its boycott of the SAARC Summit in Pakistan, Islamabad has sought to turn the heat on India diplomatically with the same narrative on Kashmir that terrorists have used for years.
Not surprising then that its claims have failed to find even a few takers. India, on the other hand, has exposed Pakistan on multiple international forums for its role in aiding, abetting and even funding terrorists in its proxy war in Kashmir.
The latest bit of advice from an individual the Pakistani dispensation has been seen as sympathetic towards can only bring the already battered nation more embarrassment.