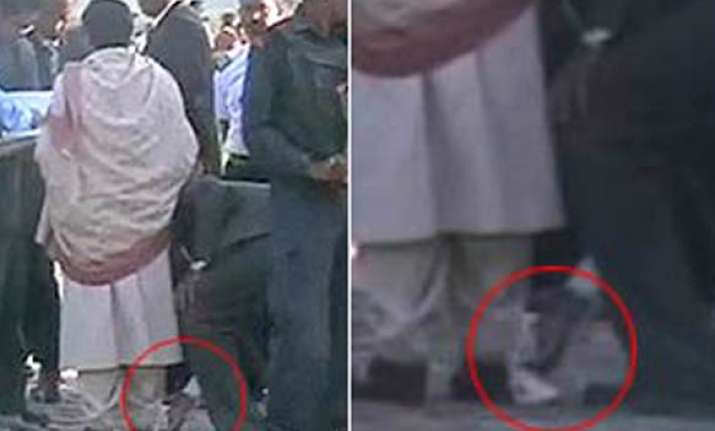 Lucknow, Feb 9 : Downplaying the shoe cleaning issue, Uttar Pradesh  government's Cabinet Secretary Shashank Shekhar Singh on Tuesday night said that when the  chief minister Mayawati alighted out of the helicopter the PSO spotted something on her shoes which may have caused injury to her while boarding the chopper or at a later stage.
"What Padam Singh did was was part of his duty as being the PSO it is his duty to keep a tab on all such situation which may cause harm or injury to the CM." Shashank Shekhar Singh said.
When asked what got stuck on Mayawati's sandal, he said, "There was lot of mud and she could have fallen down while walking. It (cleaning the shoe) was an instant reaction."
Asked to comment on a similar incident in Aligarh, where a sub-divisional magistrate allegedly touched Mayawati's feet, Singh said he was not aware of it.  On whether touching feet was part of SDM's duty, he said, "Not at all."
Shashank Shekhar Singh cited an instance during a CM's foreign trip in 2003, where she was accompanied by Kanshi Ram.
"At that time Kanshi Ram was unwell. Congress MP and National SC Commission Chairman P L Punia, who was then a bureaucrat, helped him wear shoes from humanitarian point of view," he said, adding, if that was a humanitarian gesture, then how come Congress is now criticising a similar incident involving Mayawati.
A video footage of the incident shortly after Mayawati got out of the helicopter showed Singh taking a handkerchief out of his pocket and bending down to wipe the shoes after seeing it dirty. The footage was telecast by TV channels.
The chief minister appeared to be unmindful of the PSO coninuing with the shoe wiping while she carried on with her conversation with officials who had converged at the tarmac of the helipad in Auriya, about 150 km from Lucknow, to welcome her.
One official also appeared to watching with intent Singh cleaning the shoes. Singh has been working with her for several years and was close to BSP founder Kanshi Ram.
Singh, a retired police officer currently on extension, supervises the personal security of Mayawati, sources here said.  Samajwadi Party state president Akhilesh Yadav said "the manner in which the chief minister is behaving and working is shameful and a security personnel wiping her shoes is a deplorable
incident." PTI