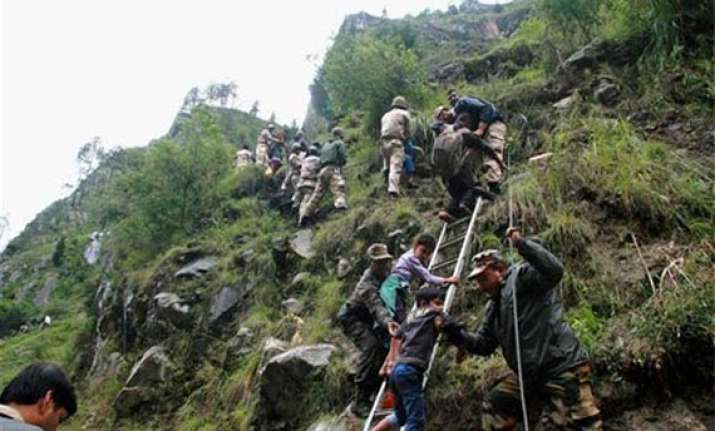 New Delhi, Jun 25: An all-women mountaineering team, which had to abort its expedition to a peak on the other side of "Kedarnath Dome", on the day disaster struck Uttarakhand, helped bring succour to the affected who looked up to them as "almost saviours".
Bimla Negi, 46, who led the team of 12 women, one doctor and two sherpas as part of this year's All-Women Expedition to the 'Mt Bhagirathi II (6512 m)' peak aborted their expedition due to "heavy snowing" on June 16, the same day the disaster struck on the other side of "Kedarnath Dome".
"We were there on the other side of the 'Kedaranath Dome', the mountain that separated us from the region of the mayhem on the other side, though we were completely unmindful of as to what was happening there. It was only after reaching down to Bhojbasa on June 18 that we realised what has happened, when we saw scared faces," she told PTI.
The team that comprised mostly young women in their mid-20s helped bring succour to the affected, especially children and old people who looked up them as "almost saviours".
"Seeing us, people got emotional and pleaded us to save them and take them back home. And, our young girls chipped in and helped children and old age folks cross difficult terrain," 49-year-old Anita Vaidya, a veteran climber, said.
"There was strong stream flowing over big rocks and pieces of rocks were flowing along. But, our girls helped children and old people get to the other side, undaunted," she said.
According to Negi, people's faith in the divine was still unshakeable.
"One would expect people to be angry with the gods and speak against the divine in anguish but here they are still believing, still chanting even as they attempt to tide over this monumental crisis," she said.
"I heard a sound of someone banging the bells of a temple behind and I saw a man standing there holding it, and his faith renewed our faith. On our way back, we saw people chanting 'Jai Gange Maiyya' and people carrying Ganga water and telling that it was Her water that saved their lives despite nature running riot," Negi said.
The team members averred that though they returned home safe last night, they could have been at nature's receiving end.
"Returning to lower altitudes we realised what could have happened to us. And, though we missed the peak by nearly 600 m, I think getting my team back all intact is itself a reward for me, given that snow fall with almost 3 feet of deposit could have turned worse had we not turned back," Negi added.
Negi, Vaidya and Anita Devi all three senior mountaineers were at 'Camp 1' (5360 m), located between the 'Advanced Base Camp' (4810 m) and 'Summit Camp' (5810 m), when it began snowing hard and they talked to their team members over walkie-talkie and asked them to return from the 'Summit Camp'.
"Though we were blissfully unaware of what was happening on the other side but there was a sense of ominous foreboding as we saw animals behaving in strange ways.
"I could feel something very weird and unusual. Even the mountain goats with their offspring were hiding behind the rocks and they had the look of terror in their eyes," Vaidya said.
Negi's husband Avinash Deoskar who was watching the news on television felt scared but said he was prepared to face any eventuality.
"I was scared of course, especially when I had no contact with her or any of the teammates. But, I had prepared myself to face any eventuality," he said.
The expedition organised by the Indian Mountaineering Foundation left Delhi on June 1 and reached Bhojbasa on June 6 before climbing up the glacial mountains above.
The team survived the June 15 snowfall even as the heavy snow "almost smothered" them.
'Mt Bhagirathi II' is one of the major peaks among the Bhagirathi groups of peaks in Garhwal Himalaya, Bhagarathi I & III are others. It was first climbed by Austrians Edi Ellmauthaler and Toni Messner in 1933.